Veterinary Nursing of Exotic Pets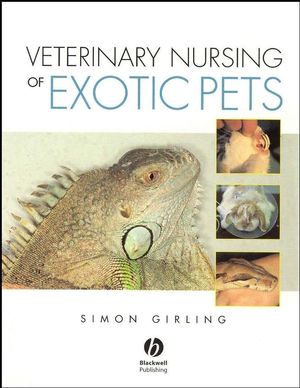 Veterinary Nursing of Exotic Pets
ISBN: 978-0-470-68052-0
Apr 2008, Wiley-Blackwell
320 pages
Description
From budgies and cockatiels to chipmunks and chinchillas, our interest in exotic pets has rocketed in recent years. With the house rabbit being the UK's third most commonly kept pet after the cat and dog, and sales in small mammals, reptiles and birds continuing to grow, exotic pets have now become a specialist area of veterinary practice in their own right.

Veterinary Nursing of Exotic Pets is the first book to address the need for a definitive reference book devoted entirely to the principles and applications of nursing exotic species. Developed from a City and Guild's course, it not only covers husbandry, nutrition and handling, but also explores anatomy and chemical restraint, and provides an overview of diseases and treatments.
Preface.
AVIAN SPECIES.
1 Basic avian anatomy and physiology.
2 Avian housing and husbandry.
3 Avian handling and chemical restraint.
4 Avian nutrition.
5 Common avian diseases.
6 An overview of avian therapeutics.
REPTILES AND AMPHIBIANS.
7 Basic reptile and amphibian anatomy and physiology.
8 Reptile and amphibian housing, husbandry and rearing.
9 Reptile and amphibian handling and chemical restraint.
10 Reptile and amphibian nutrition.
11 Common reptile and amphibian diseases.
12 An overview of reptile and amphibian therapeutics.
SMALL MAMMALS.
13 Basic small mammal anatomy and physiology.
14 Small mammal housing, husbandry and rearing.
15 Small mammal handling and chemical restraint.
16 Small mammal nutrition.
17 Common diseases of small mammals.
18 An overview of small mammal therapeutics.
Appendix 1 Legislation affecting exotic pet species in the UK.
Appendix 2 Useful addresses.
Index.
The colour plate section.
"A well-written, informative text packed with information related to a variety of exotic species. One of the many strong points of this book is the emphasis the author places on anatomical and physiological properties of each species. It will serve as an excellent reference for a growing segment of companion animal medicine. It contains up-to-date, usable information related to husbandry and medical procedures for a variety of vertebrate species. This text would be a valuable addition to the libraries of veterinary students, veterinarians, wildlife students, and anyone else involved in wildlife rehabilitation." (Journal of Wildlife Diseases, October 2008)


The first book on nursing exotic species

Aimed specifically at veterinary nurses and technicians

Developed from the City and Guild's certificate syllabus

An essential reference tool for students and practitioners