Vibrational Spectroscopy for Medical Diagnosis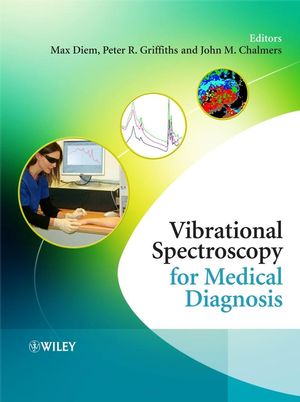 Vibrational Spectroscopy for Medical Diagnosis
ISBN: 978-0-470-01214-7
May 2008
358 pages
Description
Cancer is the second largest cause of death (after heart disease) in North America and Europe. Statistics from many countries serve constantly to inform us of how prevalent cancer is worldwide, even though one particular variation may be more predominant is one geographical region than another. The Traumatic cost in human lives, the dramatic cost of treatment and the need for rapidly advancing diagnoses and improving diagnostic methods for cancer, are clear for all to see. Current histopathological techniques for the detection and classification of cancer often lead to ambiguous diagnoses. Infrared and Raman spectroscopy have the potential to provide fast, accurate complementary techniques for the detection of many different forms of cancer. This book contains ten state-of-the-art chapters on the application of these techniques to the detection and classification of prostate, lymphatic, cervical, head and neck, and esophageal cancers, as well as reports on the application of vibrational spectroscopy to the study of individual human cells, and the identification of micro-organisms and erythrocytes, which should be of importance to spectroscopists and medical professionals alike.

This book provides an up-to-date account of the practical means, applications and potential of mid-infrared and Raman spectroscopy for the medical diagnosis of diseased tissue and cells. It will be of significant interest both to vibrational spectroscopists involved in developing technique for medical diagnosis, and to clinicians, histopathologists, medical practitioners and students working in the field, with whom the spectroscopists must work closely in multi-disciplinary teams.
Buy Both and Save 25%!
Original Price:$398.00
Purchased together:$298.50
save $99.50
Cannot be combined with any other offers.
List of Contributors.
Introduction to Spectral Imaging, and Applications to Diagnosis of Lymph Nodes (Melissa J. Romeo, Rina K. Dukor and Max Diem).
Infrared and Raman Microspectroscopic Studies of Individual Human Cells (Melissa J. Romeo, Susie Boydston-White, Christian Matthäaus, Miloš Miljkovic, Benjamin Bird, Tatyana Chernenko, Peter Lasch and Max Diem).
Infrared Spectroscopy in the Identification of Microorganisms (Mareike Wenning, Siegfried Scherer and Dieter Naumann).
Antemortem Identification of Transmissible Spongiform Encephalopathy (TSE) from Serum by Mid-IR Spectroscopy (Peter Lasch, Michael Beekes, Heinz Fabian and Dieter Naumann).
Head and Neck Cancer: A Clinical Overview, and Observations from Synchrotron-sourced Mid-infrared Spectroscopy Investigations (Sheila E. Fisher, Andrew T. Harris, John M. Chalmers and Mark J. Tobin).
Infrared Spectroscopic Imaging Protocols for High-throughput Histopathology (Rohit Bhargava and Ira W. Levin).
Spectral Histopathology of the Human Cervix (Don McNaughton, Keith Bambery and Bayden R. Wood).
Raman Spectroscopy as a Potential Tool for Early Diagnosis of Malignancies in Esophageal and Bladder Tissues (N. Stone, C. Kendall and H. Barr).
Neuro-oncological Applications of Infrared and Raman Spectroscopy (Christoph Krafft and Reiner Salzer).
Resonance Raman Spectroscopy of Erythrocytes (Bayden R. Wood and Don McNaughton).
Glossary.
Appendix: Infrared and Raman Spectra of Selected Cellular.
Components.
Index.