Vida: experiencia y expresión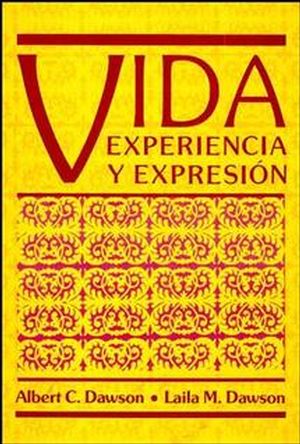 Vida: experiencia y expresión
ISBN: 978-0-471-62402-8 February 1989 292 Pages
Description
A concise intermediate text emphasizing review and refinement of grammar, development of reading skills, and expansion of vocabulary. Grammar and readings are integrated, and chapters are organized thematically. Text is all in Spanish.
Partial table of contents:

EL INDIVIDUO.

EL HEROISMO: LAS CALIDADES HEROICAS.

``El Rescate--Vocacion de Heroes.'' Galeria de Heroes--San Martin,Don Quijote, El Cid.

``El Alcazar no Se Rinde,'' Carlos Ruiz de Azilu.

Guernica, Pablo Picasso.

LA CONCIENCIA: EL CONFLICTO MORAL.

``Los Desesperados Recursos de un Hambriento,'' Gabriel GarciaMarquez.

``El Sueno de la Razon Produce Monstruos,'' Francisco Jose de Goyay Lucientes.

``Un Matoneado,'' Carlos Salazar Herrera.

LA AUTORREALIZACION: EL POTENTIAL HUMANO.

``No Hay Seres Inutiles.'' ``Sabes lo que Eres?'' PabloCasals.

``Cajas de Carton,'' Francisco Jimenez.

LAS RELACIONES INTERPERSONALES.

EL PREJUICIO: LAS ACTITUDES PERJUDICIALES.

``El Espanolito,'' Pablo Casals.

``Mi Raza,'' Jose Marti.

``La Noche de los Feos,'' Mario Benedetti.

EL AMOR: MUJERES Y HOMBRES.

``No Hay que Complicar la Felicidad,'' Marco Denevi.

``Amor a Primera Vista,'' Elena Poniatowska.

``Don Juan Tenorio,'' Jose Zorrilla.

``Hombre Pequenito,'' Alfonsina Storni.

``El Ausente,'' Ana Maria Matute.

LA CIVILIZACION: ENCUENTRO Y AMALGAMACION.

LOS DERECHOS Y LA JUSTICA.

LA REVOLUCION Y EL REVOLUCIONARIO.

LA IMAGINACIN Y LA FANTASIA.