Vietnam and the Transformation of American Life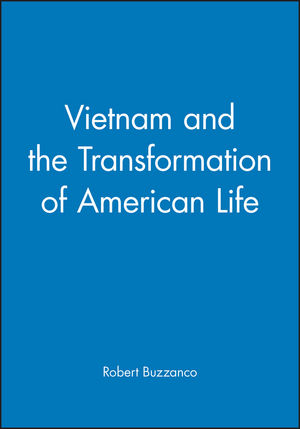 Vietnam and the Transformation of American Life
ISBN: 978-1-577-18094-4
Nov 1999, Wiley-Blackwell
288 pages
Description
The Vietnam War, which dominated American life during the 1960s, helped to create, radicalize, and alter social and political life in the US.
Acknowledgements vi
Introduction: Intersection: The Vietnam War and the Social and Political Movements of the 1960s 1
Part I The Vietnam War
1 Containment, Liberalism, and Vietnam: Background to the American War 13
2 Why (Not) Vietnam? The Vietnamese, the French, and the Americans to 1960 22
3 Destroying the Country to Save It: The American War on Vietnam, 1960-1968 61
4 The Empire Strikes Back: The Vietnam War from 1968 to 1975 101
Part II The Movements of the 1960s
5 "Many Deeds of War": Hope and Anguish in the 1960s 139
6 Love Me, I'm a Liberal: The Politics of 1960s and Vietnam 150
7 The Struggles at Home: Civil Rights and Women's Liberation 191
8 "One, Two, Three, What Are We Fightin' For?" Cultural Politics in the Vietnam Era 234
Notes 252
Bibliography 264
Index 270
"The Indochina wars have cast a long shadow over world affairs. For the victims, they were a devastating catastrophe. Their legacy for the United States was substantial, interacting in complex ways with internal developments in American society. Buzzanco's study examines these themes with skill and insight, informed by outstanding scholarship and enriched by perceptive understanding." Noam Chomsky, Massachusetts Institute of Technology
* Concise and accessible treatment of the history of the Vietnam War and late 1960s America and their vital interconnectedness.
* Uses the Vietnam War as a focal point for examining the transformation of American culture that occurred during that era.
* Designed for maximum effectiveness in the classroom, avoids a rigid historical chronology of the era in favor of integrating the major social upheaval of the era with the events of the war.