Violence and Exploitation Against Women and Girls, Volume 1087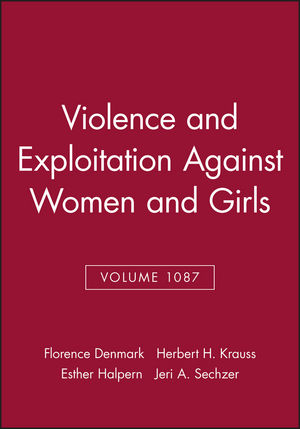 Violence and Exploitation Against Women and Girls, Volume 1087
ISBN: 978-1-573-31667-5
Jan 2007, Wiley-Blackwell
412 pages
Description
Drawing upon the expertise of a cadre of scholars and practitioners, this book has four parts: (1) conceptualizing violence and exploitation against females, (2) violence against girls and female adolescents, (3) violence against women, and (4) cultural and international perspectives on violence against women.

Contributors place violence against women and girls within a variety of cultural and religious perspectives and also present theories of violence, the role of stereotyping, and the effect of violence in the larger community. The recent emergence of cyber violence, particularly against adolescents, is addressed, and several violence prevention programs are described.

Violence against elderly women, disabled women, and pregnant women are addressed, as are the public health issues related to violence against women. The final section of the book expands the cultural perspective through chapters on domestic violence in Latin America, South Asia, Israel, and among ethnic enclaves within the United States. A report on female genital mutilation is included. The role of the United Nations and non-governmental organizations in preventing violence against women globally concludes the volume.

NOTE: Annals volumes are available for sale as individual books or as a journal. For information on institutional journal subscriptions, please visit www.blackwellpublishing.com/nyas.

ACADEMY MEMBERS: Please contact the New York Academy of Sciences directly to place your order (www.nyas.org). Members of the New York Academy of Science receive full-text access to the Annals online and discounts on print volumes. Please visit http://www.nyas.org/MemberCenter/Join.aspx for more information about becoming a member
Preface: Joy K. Rice.
Part I: Conceptualizing Violence and Exploitation Against Females:.
1. The History of Violence: Barbara Welter.
2. Theories of Violence: Herbert Krauss.
Part II: Violence Against Girls, Adolescents, and Young Women:.
3. Sexual Aggression Towards Women: Reducing the Prevalence: Gwendolyn L. Gerber, Lindsay Cherniski.
4. Adolescent Girls Speak About Violence in their Community: Roseanne Flores.
5. Who Wins in the Status Games? Violence, Sexual Violence, and an Emerging Single Standard Among Adolescent Women: Beatrice Krauss.
6. Cyber Violence Against Adolescent Girls: June Chisholm.
7. Early Violence Prevention Programs: Implications for Violence Prevention Against Girls and Women: Barbara Mowder, Michelle Guttman, Anastasia Yasik.
8. International Perspectives on Sexual Harassment of College Students: The Sounds of Silence Michele Paludi, Eros DeSouza, Liesl Nydegger, Rudy Nydegger, Sarah Bennett.
Part III: Violence Against Women:.
9. Intimate Partner Violence: New Directions: Irene Frieze, Maureen McHugh.
10. Battered Women Syndrome: Empirical Findings: Lenore Walker.
11. Aging Women and Violence: Margot Nadien.
12. Violence and Exploitation against Girls and Women with Disabilities: Daniel Rosen.
13. Violence Against Pregnant Women in Northwestern Ontario: Josephine Tan, Kate Gregor.
14. Intimate Violence against Women and Unwanted Pregnancy: Nancy Russo, Angela Pirlott.
15. Re-Victimization of Rape Victims by the Criminal Justice System: Mary P. Koss.
16. Violence against Women as a Public Health Issue: Joan Chrisler, Sheila Ferguson.
Part IV: Cultural and International Perspectives on Violence Against Women:.
17. Cultural Beliefs and Domestic Violence: Madeline Fernandez.
18. Violence Against Adolescents and Women in Mexico: Conceptualization and Program Application: Susan Pick.
19. Domestic Violence in the Chinese and South Asian Immigrant Communities: Elizabeth Midlarsky, Anitha A. Kothari, Maura Plante.
20. Domestic Violence in Israel: Changing Attitudes: Varda Muhlbauer.
21. An Exploration of Female Genital Mutilation Erika Baron, Florence L. Denmark.
22. International Sexual Harassment: Janet Sigal.
23. United Nations Measures to Stop Violence Against Women: Eva Sandis.
Epilogue: Vita Rabinowitz.
Index of Contributors