Virology: Principles and Applications, 2nd Edition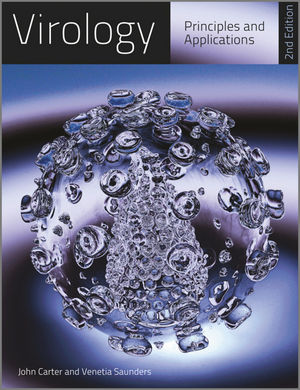 Virology: Principles and Applications, 2nd Edition
ISBN: 978-1-119-99142-7
May 2013
394 pages
Description
The second edition of Virology is an accessible introduction designed to enable students to understand the principles of virus structure, replication and genetics. The aim of this book is to help the reader appreciate the relevance of virology in the modern world, including the fields of vaccines, anti-viral drugs and cancer. There is also a chapter on prions. The second edition has been extensively revised and updated to reflect the many developments in virology and offers deeper insights into the subject. Newly-discovered viruses are discussed and there is an additional chapter on the influenza virus.
Preface to Second Edition xix
Preface to First Edition xxi
Abbreviations Used in This Book xxiii
Greek Letters Used in This Book xxvii
Color Coding for Molecules xxix
Chapter 1 Viruses and Their Importance 1
Chapter 2 Methods Used in Virology 9
Chapter 3 Virus Structure 27
Chapter 4 Virus Transmission 45
Chapter 5 Attachment and Entry of Viruses into Cells 55
Chapter 6 Transcription, Translation, and Transport 65
Chapter 7 Virus Genome Replication 83
Chapter 8 Assembly and Exit of Virions from Cells 93
Chapter 9 Outcomes of Infection for the Host 101
Chapter 10 Classification and Nomenclature of Viruses 115
Chapter 11 Herpesviruses (and Other dsDNA Viruses) 121
Chapter 12 Parvoviruses (and Other ssDNA Viruses) 135
Chapter 13 Reoviruses (and Other dsRNA Viruses) 145
Chapter 14 Picornaviruses (and Other Plus-Strand RNA Viruses) 155
Chapter 15 Rhabdoviruses (and Other Minus-Strand RNA Viruses) 169
Chapter 16 Influenza Virus 183
Chapter 17 Retroviruses 195
Chapter 18 Human Immunodeficiency Viruses 207
Chapter 19 Hepadnaviruses (and Other Reverse-Transcribing DNA Viruses) 223
Chapter 20 Bacterial Viruses 237
Chapter 21 Origins and Evolution of Viruses 263
Chapter 22 Emerging Viruses 277
Chapter 23 Viruses and Cancer 289
Chapter 24 Survival of Infectivity 301
Chapter 25 Virus Vaccines 307
Chapter 26 Anti-viral Drugs 315
Chapter 27 Prions 327
Virologists' Vocabulary 335
Index 347
Extensively revised and updated to reflect the many recent developments in virology offering deeper insights into the subject.
Discussions on newly-discovered viruses.
An additional chapter on the influenza virus.
Diagrams have been carefully developed with a new standard colour coding to enhance student understanding
An updated website including animations of virus replication cycles.
Numerous diagrams carefully developed with standard colour coding to enhance student understanding
 An introduction to the relevance of virology to the modern world including the latest developments in the field
An introduction to the theories behind the origins of viruses and how they are evolving, with discussion on emerging viruses