Virtual Reality Technologies for Future Telecommunications Systems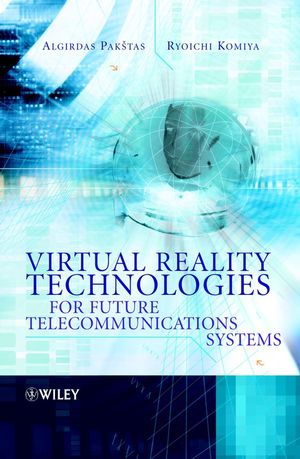 Virtual Reality Technologies for Future Telecommunications Systems
ISBN: 978-0-470-84886-9 October 2002 230 Pages
Description
Virtual Reality Telecommunication Systems (VRTS) will transmit human verbal and nonverbal communication messages, therefore human to network interface considerations are essential. The VRTS will attempt to capture the entire human body by a set of sensors at the transmitting end and will convey these feelings to the human body at the receiving end with actuators.
This book provides a broad overview of the current research in the area of creating future VRTS as well as presenting developments in closely-related areas. While many excellent articles have been written on specific applications of Virtual Reality in general, there is little at present that covers the scope of the entire telecommunications network. This book describes the role that VRTS will play in the telecommunications networks of the future. It offers not only a high-level overview of undergoing research, but also a detailed analysis of prototype implementations.

* The first comprehensive book that covers the full scope of VRTS in the context of telecommunications and offers a guide to employing Virtual Reality in telecommunications networks
* Offers an in-depth discussion of this hot topic
* Considers the emergence of both new network architectures and the trend toward convergence between the public switched telephone network and the Internet
* Features the shared knowledege and latest findings of top researchers from companies/universities such as NTT Cyber Space Labs (Japan), Lucent Technologies (USA) and QMW (GB)
Essential reading for experienced researchers and network planners, engineers and visualisation engineers, as well as advanced undergraduate/graduate students studying electronic engineering, communications technology and computer science.
Table of contents
List of Contributors.
Preface.
PART 1. INTRODUCTION: WHY VIRTUAL REALITY FOR TELECOMMUNICATIONS SYSTEMS?
Overview of Computer-based Virtual Reality (Eunjoo Lee and Algirdas Pakštas).
Towards Person-to-Person Virtual Reality Telecommunication Systems (Ryoichi Komiya).
PART 2. COMPUTER-BASED VIRTUAL WORLDS.
Virtual Clubs Telecommunication Systems (David Boyer, Allen Ginsberg, Anjum Khan, Mauricio Cortes, Sylvia Wilbur and Graeme Balfour).
Presence Awareness for Future Telecommunication Systems (David Boyer, Allen Ginsberg,Venkat Goud and Mark Handel).
Hyperspace Link Method for Virtual Reality Telecommunication Systems (Kanji Kato and Kazunori Shimamura).
PART 3. VIRTUAL LEARNING ENVIRONMENTS.
Toward Agent-based Collaborative and Interactive Virtual Environments (Lei Guo and Nicolas D. Georganas).
Collaborative Virtual Environments for Industrial Training and E-commerce (J. C. Oliveira, X. Shen and N.D. Georganas).
Virtual Reality Application for Networked Dictionary (H. Dujmic, N. Rozic, D. Begusic, J. Ursic and M. Vojnovic).
PART 4. VRTS DEFINITIONS AND COMPONENTS.
Definition of VRTS (Ryoichi Komiya).
A Prototype Terminal Proposal for Virtual Reality Telecommunication Systems (Nor Azhar Mohd Arif, Mohd Nazri Ramliy and Ryoichi Komiya).
Multimegavoxel Volumetric 3-D Display System for Distributed Collaboration (Gregg E. Favalora, Deirdre M. Hall, Michael G. Giovinco, Joshua Napoli, Rick K. Dorval , Won S. Chun and Michael Richmond).
PART 5. MOTION ANALYSIS AND TRANSMISSION.
Cyber Action: A Real-time Human Motion Instruction System using Life-sized Stereoscopic Avatars (Masayuki Ihara, Yoshihiro Shimada and Satoshi Ishibashi).
Distributed Gait Measurements (Vladan Papi&cgrave;, Vlasta Zanchi and Ante Krstulovi&cgrave;).
Realistic Telecommunications with Somatic Sensation (Tsutomu Miyasato and Ryohei Nakatsu).
PART 6. CYBERSPACES IN HIGH-SPEED NETWORK ENVIRONMENTS.
High-speed Networks and Virtual Reality Telecommunication Systems (Kanji Kato, Ryoichi Komiya and Kazunori Shimamura).
Index.