Virus and Virus-Like Diseases of Bulb and Flower Crops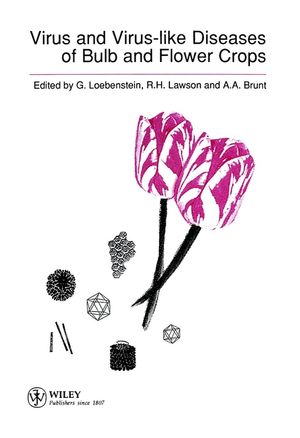 Virus and Virus-Like Diseases of Bulb and Flower Crops
ISBN: 978-0-471-95293-0 December 1996 556 Pages
Description
The book covers general topics of virus classification, transmission, purification, detection, diagnosis and control. It also describes major flower bulb, cut flower, flowering potted plant, and some of the most important bedding plants. The editors provide the most up-to-date information and the principles presented here will be applicable when new methodology is applied to control virus diseases in bulb and flower crops.
Partial table of contents:

GENERAL.

The Economic Importance of Ornamentals (A. Malter).

Major Genera of Plant Viruses (A. Brunt).

Replication of Viruses and Movement in the Plant (J.Hammond).

Identification and Assay (A. Gera, et al.) .

VIRUS DISEASES OF MAJOR ORNAMENTAL CROPS.

Alstroemeria (A. van Zaayen).

Dahlia (J. Albouy).

Hyacinth (A. Derks).

Tulip (W. Mowat).

CUT FLOWER CROPS (VEGETATIVELY PROPAGATED).

Carnation (V. Lisa).

Rose (G. Loebenstein).

CUT FLOWER CROPS (SEED PROPAGATED).

Asclepias (A. Gera & J. Cohen).

Lisianthus (V. Lisa & A. Gera).

POT AND BEDDING PLANTS.

Begonia (J. Albouy).

Hibiscus (R. Lawson).

Pelargonium (A. Franck & G. Loebenstein).

Index.