Visio 2007 For Dummies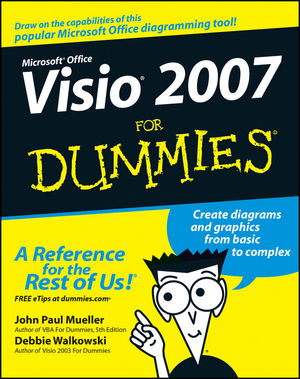 Visio 2007 For Dummies
ISBN: 978-1-118-05109-2 February 2011 416 Pages
Description
Reveal your inner business artist with Visio
Turn your ideas into diagrams and drawings with Visio's stencils and templates
If you have an idea you want to get down on electronic paper, Visio 2007 is for you, and so is this book! They're both flexible and user-friendly. Here's how to use Visio to capture ideas from simple to intricate, update data in a drawing with a single click, add and manipulate text, work with connectors, and more.
Discover how to
Create business, engineering, software, or network diagrams
Format an entire drawing using themes
Analyze "what-if" scenarios with PivotDiagrams
Produce layered multipage drawings
Save drawings to publish on the Web
Introduction.
Part I: Starting with Visio 2007 Basics.
Chapter 1: Visio 101.
Chapter 2: Creating and Saving a Simple Visio Drawing.
Chapter 3: Printing Visio Drawings.
Part II: Creating Visio Drawings.
Chapter 4: Discovering What Visio Shapes Are All About.
Chapter 5: Adding Text to Your Drawings.
Chapter 6: Connecting Shapes.
Part III: Taking Your Drawings to the Next Level.
Chapter 7: Perfecting Your Drawings.
Chapter 8: Creating and Customizing Shapes.
Chapter 9: Working with Pages.
Chapter 10: Layering Your Drawings.
Part IV: Advancing Your Knowledge of Visio.
Chapter 11: Creating Stencils, Master Shapes, and Templates.
Chapter 12: Managing Shape Information, Behavior, and Protection.
Chapter 13: Marking Up Drawings for Review.
Chapter 14: Using Visio with Other Programs.
Part V: The Part of Tens.
Chapter 15: Ten Common Tasks in Visio.
Chapter 16: Ten Web Sites Devoted to Visio.
Index.
Visio Drawings


From here you can download the Visio Drawings used in this book. They are stored in a ZIP archive. If you are unable to open ZIP files, visit WinZip.com.

Download