Vision y voz: A Complete Spanish Course, 3rd Edition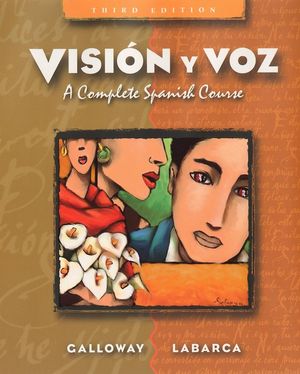 Vision y voz: A Complete Spanish Course, 3rd Edition
ISBN: 978-0-471-44310-0 July 2002 512 Pages
Description
Please note:
This title also has a student CD package available. To add this item to your shopping cart,
click here
(not the button above).
Visión y voz 3e adopts a fresh, easy-to-use, discourse-based approach that offers unique, input-rich activities that accommodate a variety of teaching and learning styles. Interactive, learner-centered, popular, and effective, this Beginning Spanish program engages students to experience the world through its variety of people and places. Students learn to use Spanish to sound their own voices and express their own views, to speak Spanish in real professional and personal situations—and to do it well!
Table of contents
Capitulo 1 Hola, ¿que tal?
Capitulo 2 ¿Como somos?
Capitulo 3 ¡Viva el finsemanismo!
Capitulo 4 Quiero escaparme de la rutina
Capitulo 5 Los hitos de la vida
Capitulo 6 Asuntos de familia
Capitulo 7 ¡Buen provecho!
Capitulo 8 La buena mesa
Capitulo 9 Hogar, dulce hogar
Capitulo 10 Historias de mi niñez
Capitulo 11 ¿Que me pongo?
Capitulo 12 El fisico es muy importante
Capitulo 13 Vida sana
Capitulo 14 Ciudades de ahora y de siempre
Capitulo 15 ¿Que nos reserva el futuro?

Verbos
Diccionario español-ingles
Diccionario inges-español
Indice