Visions of Social Control: Crime, Punishment and Classification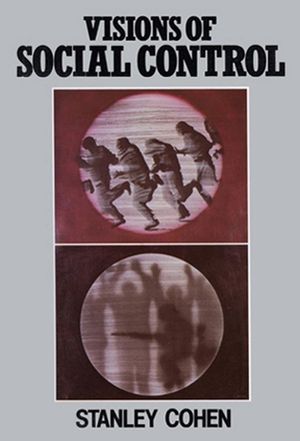 Visions of Social Control: Crime, Punishment and Classification
ISBN: 978-0-745-60021-5 January 1991 Polity 336 Pages
Download Product Flyer
Download Product Flyer
Download Product Flyer is to download PDF in new tab. This is a dummy description. Download Product Flyer is to download PDF in new tab. This is a dummy description. Download Product Flyer is to download PDF in new tab. This is a dummy description. Download Product Flyer is to download PDF in new tab. This is a dummy description.
Description
Visions of Social Control
is a wide ranging analysis of recent shifts in ideas and practices for dealing with crime and delinquency.
In Great Britain, North America and Western Europe, the 1960's saw new theories and styles of social control which seemed to undermine the whole basis of the established system. Such slogans as 'decarceration' and 'division' radically changed the dominance of the prison, the power of professionals and the crime-control system itself.
Stanley Cohen traces the historical roots of these apparent changes and reforms, demonstrates in detail their often paradoxical results and speculates on the whole future of social control in Western societies. He has produced an entirely original synthesis of the original literature as well as an introductory guide to the major theoreticians of social control, such as David Rothman and Michael Foucault. This is not just a book for the specialist in criminology, social problems and the sociology of deviance but raises a whole range of issues of much wider interest to the social sciences. A concluding chapter on the practical and policy implications of the analysis is of special relevance to social workers and other practitioners.
This is an indispensable book for anyone who wants to make sense of the bewildering recent shifts in ideology and policy towards crime - and to understand the broader sociological implications of the study of social control.
Table of contents
Acknowledgements ix
Introduction 1
Something like a Definition 2
The Sociological Connection 4
What Follows 9
1 The Master Patterns 13
The Original Transformation 14
The Alleged Current Move: Destructing 30
First Doubts, Second Thought 36
2 Inside the System 40
Size and Density 43
Visibility, Ownership and Identity 56
Penetration and Absorption 76
Conclusion: The Emerging Patterns 83
3 Deposits of Power 87
Progress 90
Organizational Convenience 92
Ideological Contradiction 100
Professional Interest 101
Political Economy 102
Conclusion 112
4 Stories of Change 115
The Quest for Community 116
The Ideal of the Minimum State 127
The Return to Behaviorism 139
Conclusion: Telling Stories 155
5 The Professionals 161
Part of a 'New Class'? 162
The Logic and Language of Control 167
Cognitive Passion 175
Towards the Classified Society 191
6 Visions of Order 197
The Dystopian Assumption 197
The City as Metaphor 205
Planning for Order 211
Maps and Territories 218
Conclusion: Domains of Control 230
7 What Is To Be Done? 236
The Intellectual as Adversary 239
Doing Good and Doing Justice 245
Inside the System – Again 254
Means and Ends 261
Exclusion and Inclusion – Again 266
Appendix: In Constructing a Glossary of Controltalk 273
Euphemism 276
Medicalism and Psychologism 278
Acronyms 279
Technobabble 280
Notes and References 282
Index 318
Reviews
"A major achievement ... in range and in analysis it is quite the best thing to have appeared in the area for many years."
Sociological Review

"A model worthy of emulation and a challenge to all, regardless of theoretical, methodological or ideological persuasion."

American Journal of Sociology

"A rich, provocative, and at times brilliant analysis of social control, punishment and classification. Cohen's use of historical, theoretical and empirical description, his unique vision and objective argumentation, and his compassion and involvement with the issues make this an essential text for anyone interested in social control... Cohen has permanently broadened and illuminated the discourse in this field."

Law and Society Review