Visit Our Village: A Download from Retreats That Work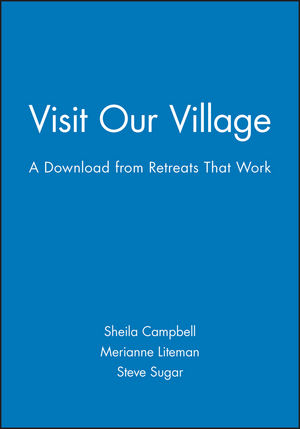 Visit Our Village: A Download from Retreats That Work
ISBN: 978-0-787-97317-9 April 2004 Pfeiffer
Description
In this activity participants are asked to observe the culture they work in by looking at its rituals and practices through an objective lens. They respond to questions anthropologists might use to study a culture and post their observations on a wall. All participants then review the postings and draw conclusions about their culture. The key to the success of this activity is to have the participants discuss how cultural issues and perceptions affect their behavior at work. Experiential elements include personal reflection, observing and reflecting on other people?s actions, and applying theories to real-life situation.

Group Size: any size

Time Required: 60 to 90 minutes, depending on number of participants and sensitivity of issues



Important Information to Review Before Making This Download Purchase
Before purchasing a Pfeiffer Download, you will need Adobe® Acrobat® Reader® Software. If you do not already have it installed on your computer, you may download this free software from the Adobe Web site at Adobe.com.

All Pfeiffer Downloads that you purchase from this site will come with specific restrictions that allow Pfeiffer to protect the copyrights of its products. Just before completing your purchase, you will be prompted to accept our License Agreement. If you do not accept the parameters of this agreement, your credit card will not be charged and your order will be cancelled.