Visual Basic® .NET Power Tools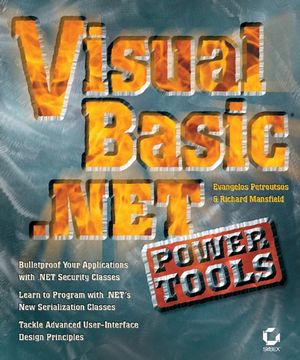 Description
Step-by-Step Instruction on Complex Topics Leads You to the Expert Level
Do you scour VB.NET books seeking solutions for esoteric database programming, debugging, security, or printing challenges, but can't ever find them? Are you wrestling with VB.NET's newer topics, such as asynchronous programming, Web services, employing Office objects, using reflection, and the .NET Compact Framework? Could you use some assistance making the transition from VB6 to VB.NET? If so, peer inside.
Visual Basic .NET Power Tools is intended for professional programmers geared up to tackle the complex, cutting-edge, and sophisticated aspects of VB.NET. In this rare book, two world-renowned VB authors thoroughly describe a broad range of fascinating and important aspects of VB that aren't addressed elsewhere.
This solutions-oriented guide teaches you how to:
Get under the hood of the .NET Framework, and find out why it works the way it does
Employ serialization techniques
Leverage Microsoft Office in your applications
Master encryption, hashing, and creating keys
Learn advanced printing techniques
Use the new reflection technology to look inside executing assemblies
Build data-driven Web applications
Design data-driven Windows applications
Work with regular expressions
Employ advanced graphics techniques
Create professional-looking forms
Design effective User Interfaces
Use the .NET Compact Framework and its emerging technologies
Introduction.
Chapter 1: Understanding the .NET Framework.
Chapter 2: New Ways of Doing Traditional Jobs.
Chapter 3: Serialization Techniques.
Chapter 4: Leveraging Microsoft Office in Your Applications.
Chapter 5: Understanding .NET Security.
Chapter 6: Encryption, Hashing, and Creating Keys.
Chapter 7: Advanced Printing.
Chapter 8: Upon Reflection.
Chapter 9: Building Bug-Free and Robust Applications.
Chapter 10: Deploying Windows Applications.
Chapter 11: Building Data-Driven Web Applications.
Chapter 12: Peer-to-Peer Programming.
Chapter 13: Advanced Web Services.
Chapter 14: Building Asynchronous Applications with Message Queues.
Chapter 15: Practical ADO.NET.
Chapter 16: Building Middle-Tier Components.
Chapter 17: Exploring XML Techniques.
Chapter 18: Designing Data-Driven Windows Applications.
Chapter 19: Working with Regular Expressions.
Chapter 20: Advanced Graphics.
Chapter 21: Designing the User Interface.
Chapter 22: Using the .NET Compact Framework and Its Emerging Technologies.
Index.
Download All Code Used in the Book
Download a .zip file with the code and examples used in the book.
To uncompress the file, Windows users can use Windows built-in ZIP utilities or a 3rd party utility like WinZip or WinRAR. Macintosh users can simply double-click the downloaded file to extract using the built-in archive utility.
Download
Chapter
Page
Details
Date
Print Run
Combined Errata


Page 345

QUEUES AND MESSAGES- Second to last paragraph, second line reads:'queue by setting its iabel property', should read: 'queue by setting its label property'

Page 484,485

THE EXPLOSION OF SCHEMES- XML code reads: 'Bogotoa',should it read: 'Bogotoa'?




---