Visual Basic 6 in Plain English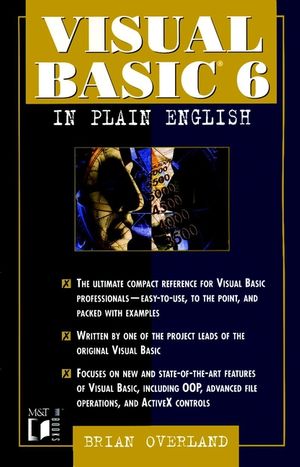 Visual Basic 6 in Plain English
ISBN: 978-0-764-57007-0
Dec 1998
592 pages
Product not available for purchase
Description
Spend less time searching for Visual Basic commands and more time learning them with Visual Basic 6 in Plain English. Featuring a quick-reference format, illustrated tutorials, practical examples, and concise, step-by-step instructions, Visual Basic 6 in Plain English is the ideal guide for busy VB programmers at every level. The book covers such important topics as arrays, controls, forms, classes, objects, properties, data types, operators, debugging commands, and much more.
Preface ix
Acknowledgements xv
Part I: Getting to Know VB6 2
Chapter 1: A Historical Introduction to VB 5
Chapter 2: A VB Survival Guide 21
Chapter 3: Coding Tips and Tricks 51
Chapter 4: Graphical VB 77
Chapter 5: Array's the Thing 115
Chapter 6: Advanced Controls 141
Chapter 7: File Ops Made Easy 167
Chapter 8: OOPS, It's Basic 187
Chapter 9: Writing Controls 101 221
Chapter 10: Controls 102: Properties 239
Chapter 11: Interface to Database 263
Chapter 12: Task Summary: How Do I? 283
Part II: Tables and References Data 320
Visual Basic 6 in Plain English 323
Visual Basic 6 A-Z 341
Chapter 13: Data Types 347
Chapter 14: Operators 359
Chapter 15: Summary of Standard Controls 369
Chapter 16: Object Keywords and Tools 389
Chapter 17: Control Structures 413
Chapter 18: Keyword Summary: File System 435
Chapter 19: Keyword Summary: General I/O 461
Chapter 20: Keyword Summary: Strings 473
Chapter 21: Keyword Summary: Math 499
Chapter 22: Debugging Commands 509
Appendix A: Calculator Sample Code 529
Appendix B: Stack Class 533
Appendix C: ASCII Character Table 537
Index 539
Bonus Content
Bonus Content
The sample code, prepared exclusively for readers of Visual Basic® 6 in Plain English, is available only from Wiley.com and can be found on the downloads page from the menu on the left.
For additional information, please e-mail author Brian Overland.