Visual Basic Algorithms: A Developer's Sourcebook of Ready-to-Run Code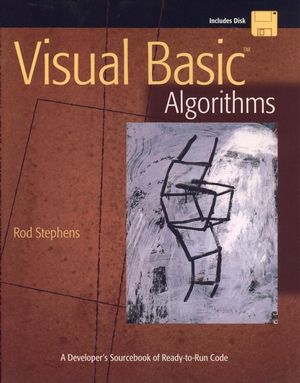 Visual Basic Algorithms: A Developer's Sourcebook of Ready-to-Run Code
ISBN: 978-0-471-13418-3
Feb 1996
352 pages
Product not available for purchase
Description
Bring the power of algorithms to your Visual Basic programs.

Whether you need to tackle more sophisticated software projects or simply want to build more muscle into your everyday programs, this book is for you. The first book to teach algorithms to Visual Basic programmers, it gives you what you need to create the sophisticated applications your colleagues and clients demand.

Visual Basic Algorithms is both a solid working introduction to the subject and a sourcebook packed with valuable, ready-to-run code. You'll learn the basics of how algorithms work, how to analyze the usefulness of any algorithm, and how to incorporate algorithms into Visual Basic programs. The book then presents dozens of the most important and useful algorithms, implemented in Visual Basic and clearly explained in plain English.

You'll find algorithms — complete with ready-to-run Visual Basic code — for a wide range of common programming tasks, including memory allocation, sorting, searching, hashing, trees, networking, assignment, shortest path, and queue simulation. You'll also find an array of implemented algorithms for user-interface design and graphics programs.

Disk Includes:
A gold mine of useful Visual Basic source code implementing all algorithms from the book
Working applications that demonstrate the uses of every algorithm covered
Visit our Web page at: http://www.wiley.com/compbooks/
Background.
Dynamic Data Structures—Lists and Stacks.
Dynamic Data Structures—Queues and Arrays.
Recursion.
Trees.
Balanced Trees.
Decision Trees.
Sorting.
Searching Lists.
Hashing.
Network Algorithms.
Index.