Visual Basic .NET Codemaster's Library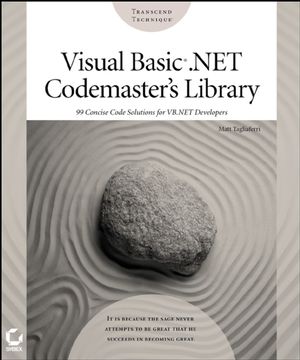 Visual Basic .NET Codemaster's Library
ISBN: 978-0-782-15264-7
Feb 2006
376 pages
Product not available for purchase
Description
Microsoft's new .NET version of Visual Basic is its most radical revamping of the product since it was first released. Even if you know your way around VB6, the latest version presents special challenges. There are some new ways of doing things, some new things to do, and a new environment in which to work. With a few tips and tricks from expert Matt Tagliaferri, however, you'll be well on your way to VB.NET mastery.
Visual Basic .NET Codemaster's Library offers a collection of 99 clear, concise programming examples, which show you how to use VB.NET and Visual Studio .NET to make the most of functionality available for the first time in the .NET Framework. You can begin with any topic and read only the ones that matter to you.
Each topic provides a solution that you can incorporate into your own work, in areas ranging from garbage collection to database transactions, from memory management to XML Web Services. You even get coverage of mixing C# and VB.NET in the same application. Taken together, the tips in this book help you make the transition to thinking and working effectively within the object-oriented world of .NET.
Introduction.
Part I: From VB6 to VB .NET.
Part II: The .NET Framework.
Part III: OOP Techniques.
Part IV: Databases.
Part V: More Framework Topics.
Part VI: Visual Studio.
Part VII: Beyond Visual Basic.
Part VIII: Internet and Distributed Development.
Part IX: .NET Delegates: A C# (and Now VB .NET) Bedtime Story.
Index.
Updated prjDataset.zip file.
This Zip file contains the updated vesion of the project prjDataset. The author has fixed the line in the project that resulted in too much information being populated in a Treeview.

Requires Stuffit Expander.

Download
Chapter
Page
Details
Date
Print Run
CD
Problem with the CD Source Code file "prjIniFiles.vbproj"
Problem with the CD Source Code file "prjIniFiles.vbproj", The function GetString returns an error. Author Comments:

A reader suggested that you change one line in the GetString function, from

Dim RetStr As String

to

Dim RetStr As String = New String(Chr(0), 255)

and the problem goes away.

---

CD
Updated prjDataset.zip file.
Go to Downloads for updated prjDataset.zip file.

---

Combined Errata


Page 0 CD

Problem with the CD Source Code file "prjIniFiles.vbproj", The function GetString returns an error.
Author Comments:

A reader suggested that you change one line in the GetString function, from

Dim RetStr As String

to

Dim RetStr As String = New String(Chr(0), 255)

and the problem goes away.

Page 0CD

Updated prjDataset.zip file. .
This Zip file contains the updated vesion of the project prjDataset. The author has fixed the line in the project that resulted in too much information being populated in a Treeview.




---