Visual C++ .NET Bible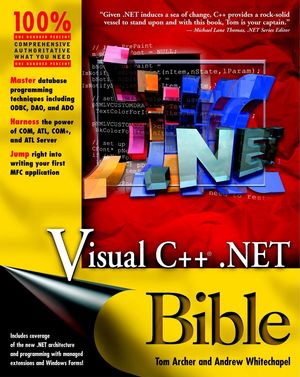 Visual C++ .NET Bible
ISBN: 978-0-764-54837-6
Aug 2002
1248 pages
Product not available for purchase
Description
If you want to gain more precise control over Windows and Web-based applications, this is the only comprehensive combination reference with tutorial you need by your side. Expert programmer and author Tom Archer begins with thorough hands on introduction, such as SDI applications, MDI applications and dialogs then moves quickly to the skills expected of professionals, such as internet programming, multithreaded programming and attribute programming.
The author ensures that the novice professional receives special explanation as well as dispensing expert tips, such as ATL Server issues and programming .NET for the advanced developers.
This book fills the "holes " between understanding how to create a Visual C++ project and how to implement a complex application.
Visual C++.NET Bible is the essential guide for developers at every skill level with its step-by-step instructions, real world examples and Tom's expert insight into developing industrial strength applications.
Preface.

Acknowledgments.

Part I: User Interface.

Chapter 1: Writing Your First MFC Application.

Chapter 2: Documents, Views, and SDI.

Chapter 3: MDI Applications.

Chapter 4: Menus.

Chapter 5: Mouse and Keyboard Processing.

Chapter 6: Status Bars and Toolbars.

Chapter 7: Tree View and List View Controls.

Chapter 8: Programming the GDI.

Chapter 9: Bitmaps, Palettes, and DIBs.

Part II: Dialogs.

Chapter 10: Dialog Basics and Common Controls.

Chapter 11: Dialog Boxes and Form Views.

Chapter 12: Property Sheets and Pages.

Part III: Advanced Programming.

Chapter 13: Custom Draw Controls.

Chapter 14: Adding Custom Behavior to Controls.

Chapter 15: Print and Print Preview.

Chapter 16: Working with DLLs.

Chapter 17: Multithreaded Programming.

Chapter 18: Exception Handling.

Part IV: Data I/O.

Chapter 19: Clipboard.

Chapter 20: ODBC.

Chapter 21: MFC Database Classes.

Chapter 22: ADO.

Chapter 23: DAO.

Chapter 24: CFile and File I/O in MFC.

Chapter 25: Using XML from Visual C++.

Part V: COM and ATL.

Chapter 26: Introduction to Interface-Based Programming.

Chapter 27: Creating and Consuming Components.

Chapter 28: Type Libraries.

Chapter 29: Threading in COM.

Chapter 30: Introduction to ATL.

Chapter 31: Windowing with ATL.

Chapter 32: Eventing with ATL.

Chapter 33: Automation with ATL.

Chapter 34: Introducing the WTL.

Part VI: Programming with COM+.

Chapter 35: Building Stateful COM+ Applications.

Chapter 36: COM+ and Loosely Coupled Events.

Chapter 37: COM+ Queued Components.

Part VII: ATL Server.

Chapter 38: Getting Started with ATL Server.

Chapter 39: Creating Web Services with ATL Server.

Chapter 40: Writing ATL Server Applications.

Part VIII: Programming .NET.

Chapter 41: Introducing .NET.

Chapter 42: Writing Managed C++ Code.

Chapter 43: Multithreading with Managed C++.

Chapter 44: Working with Windows Forms.

Index.