Visual Consulting: Designing and Leading Change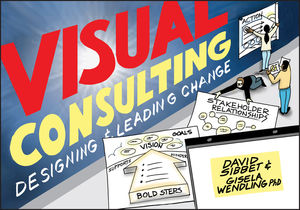 Visual Consulting: Designing and Leading Change
ISBN: 978-1-119-37534-0
Oct 2018
256 pages
Product not available for purchase
Description
Use visualization to get results in the consulting process
Every consultant can use a powerful approach to visioning, transformational change, leadership development, and all the other competencies needed to get results for clients—and this book shows you how. Building on Peter Block's Flawless Consulting, it shows you how to deal visually with initial contracting and scoping, data gathering and feedback, intervention planning and implementation, and assessment in organizational settings.
Unlike Block's work, Visual Consulting also addresses the more challenging problems of guiding organizational and social change processes that involve multiple levels of stakeholders and interests in local and global environments. Plus, it demonstrates how a focus on visualization can be used to get more creative, productive, and ""owned"" results during a consulting engagement in organizations.
• Harness powerful visual tools for all key stages of the consulting process
• Get desired results for your clients, no matter the challenge
• Use visualization comprehensively on an object level
• Guide change successfully in any organization
The fourth installment in the Visual Facilitation series, this book teaches you how to use visualization to design and lead change.