Visual Culture, 2nd Edition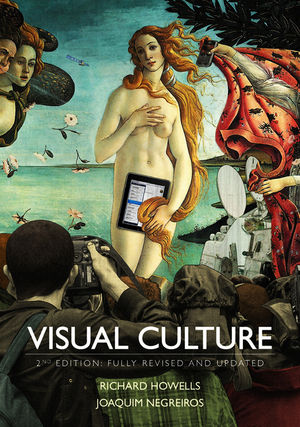 Visual Culture, 2nd Edition
ISBN: 978-0-745-69530-3
Sep 2014, Polity
300 pages
Description
This is a revised, expanded, and updated edition of the highly successful Visual Culture. Like its predecessor, this new version is about visual literacy, exploring how meaning is both made and transmitted in an increasingly visual world. It is designed to introduce students and other interested readers to the analysis of all kinds of visual text, whether drawings, paintings, photographs, films, advertisements, television or new media forms. The book is illustrated with examples that range from medieval painting to contemporary advertising images, and is written in a lively and engaging style.
The first part of the book takes the reader through differing theoretical approaches to visual analysis, and includes chapters on iconology, form, art history, ideology, semiotics and hermeneutics. The second part shifts from a theoretical to a medium-based approach and comprises chapters on fine art, photography, film, television and new media. These chapters are connected by an underlying theme about the complex relationship between visual culture and reality.
New for the second edition are ten more theoretically advanced Key Debate sections, which conclude each chapter by provoking readers to set off and think for themselves. Prominent among the new provocateurs are Kant, Baudrillard, Althusser, Deleuze, Benjamin, and Foucault. New examples and illustrations have also been added, together with updated suggestions for further reading.
The book draws together seemingly diverse approaches, while ultimately arguing for a polysemic approach to visual analysis. Building on the success of the first edition, this new edition continues to provide an ideal introduction for students taking courses in visual culture and communications in a wide range of disciplines, including media and cultural studies, sociology, art and design.
List of Illustrations vii
Preface to the First Edition ix
Preface to the Second Edition xi
Introduction 1
Part I: Theory
1 Iconology 11
2 Form 35
3 Art History 60
4 Ideology 83
5 Semiotics 112
6 Hermeneutics 137
Part II: Media
7 Fine Art 157
8 Photography 183
9 Film 207
10 Television 237
11 New Media 263
Conclusion 295
Notes 296
Bibliography 322
Index 333
"This second edition is a comprehensive, sophisticated, eminently readable analysis of what everyone sees but almost no one notices."
John Stilgoe, Harvard University
"Generous, wide-ranging, always helpful and clear, this second edition of Richard Howells' Visual Culture is a succinct and versatile guide to the different languages that images speak. For the literature student in particular, this is, I believe, the best general introduction available to the key ideas, the key questions and the key texts of visual culture."
John Harvey, University of Cambridge
"As a guide for the study of visual culture, this volume stands out for breadth, accessibility, and usefulness. The authors examine writers who have changed the way we think and see, the nature and experience of visual media, and leading conceptual tools on which the study of visual culture has relied. The result is a highly readable, deeply informed and richly illuminating book."
David Morgan, Duke University
"Visual Culture ranges across diverse disciplines and entertains multiple-sometimes opposing-perspectives on its subject. It provides a comprehensive introduction to media theory and a practical grounding in the analysis of multiple media, from fine arts to television, and from photography to new media."
Paul K Eiss, Director of the Center for the Arts in Society, Carnegie Mellon University
Fully revised, expanded and updated edition of the successful Visual Culture textbook.
Designed to introduce students to the analysis of a broad range of visual texts, including paintings, television, photographs, advertisements and new media.
This new edition features ten more theoretically advanced Key Debates sections, to introduce a broader range of theory and theorists.
Generously illustrated throughout.