Visualizing Environmental Science, 5th Edition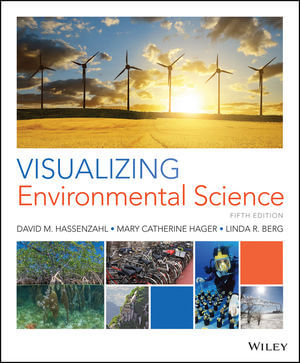 Visualizing Environmental Science, 5th Edition
Description
The 5th Edition of Visualizing Environmental Science provides students with a valuable opportunity to identify and connect the central issues of environmental science through a visual approach. Beautifully illustrated, this fifth edition shows students what the discipline is all about—its main concepts and applications—while also instilling an appreciation and excitement about the richness of the subject. This edition is thoroughly refined and expanded; the visuals utilize insights from research on student learning and feedback from users.
Contents
Chapter 1: The Environmental Challenges We Face
Chapter 2: Sustainability and Human Values
Chapter 3: Environmental History, Politics, and Economics
Chapter 4: Risk Analysis and Environmental Health Hazards
Chapter 5: How Ecosystems Work
Chapter 6: Ecosystems and Evolution
Chapter 7: Human Population Change and the Environment
Chapter 8: Air and Air Pollution
Chapter 9: Global Atmospheric Change
Chapter 10: Freshwater Resources and Water Pollution
Chapter 11: The Ocean and Fisheries
Chapter 12: Mineral and Soil Resources
Chapter 13: Land Resources
Chapter 14: Agriculture and Food Resources
Chapter 15: Biodiversity and Conservation
Chapter 16: Solid and Hazardous Waste
Chapter 17: Nonrenewable Energy Resources
Chapter 18: Renewable Energy Resources
Graphing Appendix
New WileyPLUS Learning Space course – WileyPLUS Learning Space is an online teaching and learning platform that helps students learn, collaborate, and grow, and helps instructors diagnose student progress; facilitate engagement; and measure outcomes.
New Interactive Graphics – 3 to 5 per chapter – Interactive Graphics engage students by presenting processes, relationships, data, and layers in a dynamic fashion, all controllable by the student. Instead of skipping quickly over static images, students explore Interactive Graphics in ways that allow them to see how the parts relate to the whole, visualize data, build processes, and relate elements to each other.
An updated chapter on food resources, to reflect increased awareness of the impact of the environment on food production and food production on the environment.
New chapter opener on the energy embedded in every vehicle on the road
A new EnviroDiscovery feature exploring the idea of deep retrofits to reduce the energy demand of a residence.
Chapter-wide updates evaluating human impacts on the ocean and global fisheries, and assessing efforts to preserve and protect marine resources.
A new chapter opener exploring a groundbreaking approach to wildlife conservation in Africa.
The text's visualizing approach uses a variety of research-based visuals to engage students so they become active participants in the learning process.
The 5th edition of Visualizing Environmental Science immerses students in course material through imagery (both in print and rich multimedia resources) while organizing complex processes and related course information into easily digestible segments.