Visualizing Geology, 4th Edition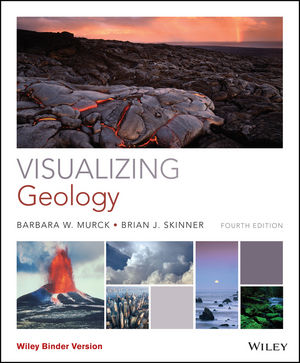 Visualizing Geology, 4th Edition
ISBN: 978-1-118-78327-6
May 2015
592 pages
Product not available for purchase
Description
Visualizing Geology employs uniquely designed visual pedagogy to help students acquire the skills they need to become better learners.  Visualizing Geology is a comprehensive, modern book for today's geology course. With current examples, thorough coverage of geologists' tools and technology, and a visual design that is accessible without sacrificing content, it is a title that will appeal to a broad range of instructors. Visualizing Geologyimmerses students in course material through visuals (both in print and rich multimedia resources) while organizing complex processes and related course information into easily digestible segments.
PREFACE

CHAPTER 1 Earth as a Planet

CHAPTER 2 Earth Materials

CHAPTER 3 How Old Is Old? The Rock Record and Geologic Time

CHAPTER 4 Plate Tectonics

CHAPTER 5 Earthquakes and Earth's Interior

CHAPTER 6 Volcanos and Igneous Rock

CHAPTER 7 Weathering and Erosion

CHAPTER 8 From Sediment to Sedimentary Rock

CHAPTER 9 Folds, Faults, and Geological Maps

CHAPTER 10 Metamorphism: New Rock from Old

CHAPTER 11 Water On and Under the Ground

CHAPTER 12 The Ocean and the Atmosphere

CHAPTER 13 Climactic Extremes: Deserts and Glaciers

CHAPTER 14 Earth's Climates: Past, Present, Future

CHAPTER 15 A Brief History of Life on Earth

CHAPTER 16 Understanding Life's Resources

Appendix A: Units and Their Conversions

Appendix B: Periodic Table of Elements

Appendix C: Tables of the Properties of Selected Common Minerals

Appendix D: Self-Test Answers

Glossary
Digital-first delivery via WileyPLUS Learning Space, including enhanced e-book and social functionality for peer-peer learning
Rich collection of animations, simulations and NGS videos
Increased emphasis on environmental issues, especially climate change, from a geological perspective.
Learning Objectives at the beginning of each section head indicate in behavioral terms what the student must be able to do to demonstrate mastery of the material in the chapter.
Concept Check questions at the end of each section give students the opportunity to test their comprehension of the learning objectives.
Marginal Glossary Boxes introduce each chapter's most important terms, often reinforced with a thumbnail photograph.
What a Geologist Sees features highlight a concept or phenomenon, using photos and figures that would stand out to a professional in the field, and helping students to develop observational skills.
Global Locator Maps that accompany figures addressing issues encountered in a particular geographic region feature insets of hemispheric locator maps to help students visualize where the area is.
Process Diagrams present a series of figures or a combination of figures and photos that describe and depict a complex process, helping students to observe, follow and understand the process.
The illustrated Case Studies that cap off the text sections of each chapter offer a wide variety of in-depth examinations that address important issues in the field of environmental science.