Visualizing Human Geography: At Home in a Diverse World, 2nd Edition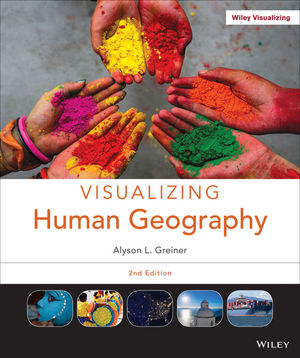 Visualizing Human Geography: At Home in a Diverse World, 2nd Edition
ISBN: 978-1-118-80380-6
Jan 2014
464 pages
Product not available for purchase
Description
Visualizing Human Geography is a comprehensive, modern book for today's human geography course. With current examples, thorough coverage of geographers' tools and technology, and a visual design that is accessible without sacrificing content, it is a title that will appeal to today's student.
1. What Is Human Geography?
2. Globalization and Cultural Geography.
3. Population and Migration.
4. Geographies of Language.
5. Geographies of Religion.
6. Geographies of Identity: Race, Ethnicity, Sexuality, and Gender.
7. Political Geography.
8. Urban Geographies.
9. Geographies of Development.
10. Changing Geographies of Industry and Services.
11. Agricultural Geographies.
12. Environmental Challenges.
Appendix A: Understanding Map Projections.
Appendix B: Answers to Self-Tests.
Glossary.
Chapter 3 features a completely revised, updated, and expanded section on migration with several new photos and illustrations. Instead of using a regional framework, the migration section is now organized around the following topics: migration principles, internal migration, international migration, and immigration to the United States.
Chapter 10 has been reorganized toincorporate expanded coverage of services. A new Geography InSight feature enhances the discussion of types of services, and a revised Process Diagram relates steps in the manufacturing processes to manufacturing value added and profit captured using the example of an iPad.
New Ask Yourself questions. These are short answer closed-ended questions that are linked to a visual. Each chapter has one or more of these features. The Ask Yourself questions are designed to help students engage with the core content presented in the visual. The use of closed-ended questions with answers provided at the back of the book ensures that students have a way to obtain immediate feedback on their comprehension of concepts at different points in the chapter.
Visualizing Human Geography differs from competing textbooks by uniquely combining three powerful elements: 
Visual pedagogy, integrated with comprehensive text. Visuals and text are conceived and planned together in ways that clarify and reinforce major concepts while allowing students to understand the details.
The use of authentic situations and issues from the National Geographic Society collections. These authentic materials immerse the student in real-life issues in human geography, thereby enhancing motivation, learning, and retention
The inclusion of interactive multimedia in the WileyPLUS learning environment. Wiley Visualizing makes this online WileyPLUS component a key element of the learning and problem-solving experience, which sets it apart from other textbooks whose online component, is a mere drill-and-practice feature.
Together these elements deliver a level of rigor in ways that maximize student learning and involvement. Each key concept and its supporting details have been analyzed and carefully crafted to maximize student learning and engagement. 
This new edition of Visualizing Human geography now includes Wiley PLUS. WileyPLUS is a research-based online environment for effective teaching and learning. WileyPLUS is packed with interactive study tools and resources–including the complete online textbook–to give your students more value for their money. With WileyPLUS, students will be able to customize the learning method that works best for them.