Visualizing Microbiology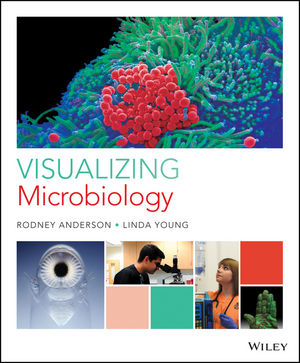 Visualizing Microbiology
ISBN: 978-1-119-32041-8
Sep 2016
752 pages
Description
Visualizing Microbiology, 1st Edition provides an introduction to microbiology for students who require the basic fundamentals of microbiology as a requirement for their major or course of study. The unique visual pedagogy of the Visualizing series provides a powerful combination of content, visuals, multimedia and videos ideal for microbiology. A dynamic learning platform encouraging engagement with real clinical content, Visualizing Microbiology also brings the narrative to life with integrated multimedia helping students see and understand the unseen in the world of microbiology.
Chapter 1 The Microbial World
Chapter 2 The Chemical Basis of Life
Chapter 3 Principles of Microscopy
Chapter 4 Prokaryotic Organisms
Chapter 5 Eukaryotic Organisms
Chapter 6 Viruses
Chapter 7 Microbial Metabolism
Chapter 8 Microbial Genetics
Chapter 9 Microbial Sampling, Growth, and Control
Chapter 10 Innate Immunity
Chapter 11 Adaptive Immunity
Chapter 12 Immune Disorders and Vaccina­tion
Chapter 13 Microbial Pathogenesis
Chapter 14 Antimicrobial Agents
Chapter 15 Infectious Disease Epidemiology
Chapter 16 Diseases of the Respiratory Sys­tem
Chapter 17 Diseases of the Skin and Eyes
Chapter 18 Diseases of the Nervous System
Chapter 19 Diseases of the Cardiovascular and Lymphatic Systems
Chapter 20 Diseases of the Gastrointestinal Tract
Chapter 21 Diseases of the Genitourinary Tract
Chapter 22 Environmental and Industrial Microbiology
Case Studies: Written in the personal narrative format shown to enhance long term knowledge retention, these patient scenarios frame each chapter. Students are exposed to medical scenarios that accurately simulate true patient/care provider interactions. The realistic experience nurtures critical thinking skills while also encouraging development of patient empathy, improving comprehension of patient compliance problems, and facilitating student understanding of transcultural health care concerns.
Microbiology Toolbox Videos: Videos of key experiments in Microbiology. These include many classic and common clinical lab experiments along with more recent lab techniques. These provide students exposure into the lab and seeing best practices and application of techniques being learned.
Common Culprits: The most significant infections of each body system and risk group will be thoroughly addressed in Visualizing Microbiology. However, to illustrate the scope of medical microbiology, each section will conclude with a list of pathogens that were not targeted for specific discussion in the chapter but should not be ignored.
Animations. A comprehensive library of animations, designed to aid student self-learning and to provide faculty with the tools to bring the core Microbiology concepts into the classroom. Visualizing Microbiology will benefit from the development of an animated learning system, consisting of vibrant art, 5-7 3D animations that focus on the core topics of Microbiology, and supplemental 2D animations which allow students to review and revisit the concepts from their class and text.
In the Hospital: Chapter opening Video vignettes introducing the chapter material and providing context for better student understanding and engagement. These openers are all shot in clinical settings to provide better student context.
Clinical Decision Trees: A number of cases covering a range of topics. These activities allow students to apply the basic information learned within a clinical application helping them building critical thinking skills.
WileyPLUS Learning Space is an easy way for students to learn, collaborate, and grow. With WileyPLUS Learning Space, students create a personalized study plan, assess progress along the way, and make deeper connections as they interact with the course material and each other. WileyPLUS Learning Space also includes ORION–integrated, adaptive practice that helps students build their proficiency on topics and use their study time most effectively.