Visualizing Nutrition: Everyday Choices, 4th Edition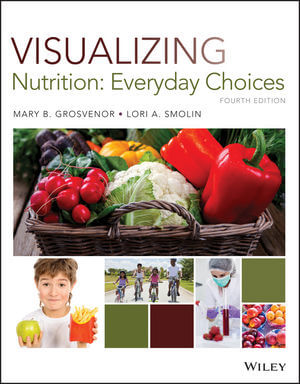 Visualizing Nutrition: Everyday Choices, 4th Edition
ISBN: 978-1-119-39553-9 November 2017
Description
Visualizing Nutrition teaches students to identify and connect the central elements of nutritional science using a visual approach. As students explore important nutrition topics, they are immersed in content that not only provides scientific understanding, but demonstrates relevance to their personal lives. Students are challenged and taught the decision-making skills needed to navigate the countless choices they will face in promoting their good health and preventing disease. Visualizing Nutrition's critical thinking approach with a solid underpinning of the scientific process empowers students to be knowledgeable consumers when faced with decisions about what to eat.
1. Nutrition: Everyday Choices
2. Guidelines for a Healthy Diet
3. Digestion: From Meals to Molecules
4. Carbohydrates: Sugars, Starches, and Fibers
5. Lipids: Fats, Phospholipids, and Sterols
6. Proteins and Amino Acids
7. Vitamins
8. Water and Minerals
9. Energy Balance and Weight Management
10. Nutrition, Fitness, and Physical Activity
11. Nutrition During Pregnancy and Infancy
12. Nutrition from 1 to 100
13. How Safe Is Our Food Supply?
14. Feeding the World
15. Metabolism (Online Only)
- Digital Activities: A variety of activities are integrated in the course including drag-n-drop interactive activities focused on food sources and qualities for the macro- and micro-nutrient course sections.
- Calculating Activities: These unique resources provide an option for students to create a meal and calculate the amount and percent of calories from each of the macronutrients. There is no limit to portion variations which may be used in the meal. Users can practice calculating calories and percent of calories multiple times.
- Updated Video Resources: New videos are included focusing on the most current, relevant topics in nutrition such as the new food label regulations, meeting protein needs with vegan diets, herbal supplements, and biotechnology. All videos have accompanying assessments.
- Focus on Metabolism: A fully illustrated online appendix provides a summary of the metabolism information that students have learned in the course. This feature is found within WileyPLUS.
- New and Updated Discussion Questions: Each course section includes discussion questions to help build the student's critical thinking skills and provide a useful resource for in-class discussions.
- Mobile Media Assets: Course features are now accessible on tablets, including How It Works Animations (with closed captioning for ADA compliance).
- Food For Thought: This extensive video suite is available through WileyPLUS. Videos introduce students to upcoming content concepts, underscore the importance of nutritional choices on health, illuminate difficult scientific concepts, and point out helpful practice opportunities and resources in WileyPLUS. All of this helps students focus their time and study effectively. Assignable question sets are also available for all videos. Videos with tips for instructors and an instructor's manual are also provided, both of which demonstrate content specific teaching tips and strategies suitable for all different types of classroom environments, including online and flipped classrooms.
- ORION Adaptive Practice: Every student has a different starting point, and adaptive practice provides endless opportunities for practice to effectively prepare for class or quizzes and exams. Active retrieval of information with practice questions is proven to improve retention of information better than re-reading or reviewing the material, and students who use adaptive practice to prepare for exams do significantly better than those who do not. Students begin with a quick, chapter-level diagnostic to determine their initial level of understanding, and they can use the dashboard and quick reports to see what topics they know and don't know.
- iProfile Dietary Analysis Software: This software features over 50,000 foods, including ethnic, cultural, and popular brand-name choices. With a newly updated food database, users can track intake, add foods, and calculate the impact of physical activity. Serving size animations, a self-discovery survey, single-nutrient reports, menu planning and more make it a valuable tool.