Visualizing Physical Geography, Binder Ready Version, 2nd Edition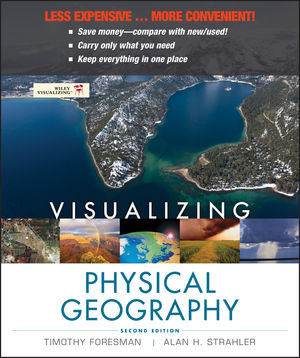 Visualizing Physical Geography, Binder Ready Version, 2nd Edition
ISBN: 978-1-118-12658-5
Jan 2012
624 pages
Description
This text is an unbound, binder-ready edition.
Visualizing Physical Geography employs uniquely designed visual pedagogy to help students acquire the skills they need to become better learners. The 2nd edition has refined and expanded the visuals using insights from research on student outcomes. The Visualizing approach uses a variety of research-based visuals to engage students so they become active participants in the learning process. Visualizing Physical Geography immerses students in course material through visuals (both in print and rich multimedia resources) while organizing complex processes and related course information into easily digestible segments. Visualizing Physical Geography is a comprehensive, modern book for today's physical geography course. With current examples, thorough coverage of geographers' tools and technology, and a visual design that is accessible without sacrificing content, it is a title that will appeal to a broad range of instructors. The narrative and concepts are tightly linked to visual elements, including practical examples that highlight the relevance of the concepts. Maps are integrated throughout to help reveal patterns or trends. Divergent views and critical thinking are emphasized. Photographs and other visuals are also included to reinforce the concepts.
New emphasis on climate change.
Expanded coverage of important topics. Throughout, this edition contains new or expanded discussions of important and relevant topics.
Enhanced visuals.
New Science Tools feature.
New Where Geographers Click feature.
New Video Explorations feature.
More opportunities for critical thinking. In every chapter, select figures are paired with new critical thinking questions. Ask Yourself questions test student comprehension of the figure. Put It Together questions ask students to combine information from the figure with previously learned material. Think Critically questions require students extend their knowledge by applying what they've learned to new situations.
"From the Field" examine a specific place, its location, what the issues are, geographers' field research and what the authors found in their own observations.
"Applying geographic knowledge" sections at the end of each chapter, address the key concepts used within the chapter and force students to apply geographic concepts.
All geographic concepts are shown and explained with the most up-to-date photos, illustrations and maps.
MAP strengths known to all de Blij titles (Maps, Accuracy, and Photos).
"Key questions" are listed after the opening field note of each chapter and serve as the outline for the chapter.
"Thinking Geographically" questions ask the reader to apply a geographic concept to a real life example.