Visualizing Psychology, 2nd Edition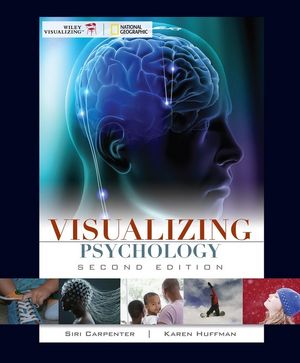 Visualizing Psychology, 2nd Edition
Product not available for purchase
Description
This text relies heavily on the integration of visuals to elucidate concepts for students and solidify their understanding of them. Examples throughout Visualizing Psychology, 2nd edition show students how they can use psychology in the workplace and in their personal relationships, while also demonstrating the role psychology plays in other practical everyday issues. The goal is to help students understand the world around them and interpret what they see in a meaningful, accurate and exciting way. The content, design and layout of the titles take advantage of the full capacity in which student's process information – visually as well as verbally.
Visualizing Psychology, 2nd edition helps students examine their own personal studying and learning styles with several new pedagogical aids -- encouraging students to apply what they are learning to their everyday lives while offering ongoing study tips and psychological techniques for mastering the material.  Most importantly students are provided with numerous opportunities to immediately access their understanding.  
Foreword v
Preface vii
1 Introduction and Research Methods 2
2 Neuroscience and Biological Foundations 32
3 Stress and Health Psychology 62
4 Sensation and Perception 86
5 States of Consciousness 114
6 Learning 142
7 Memory 172
8 Thinking, Language, and Intelligence 198
9 Life Span Development I 226
10 Life Span Development II 254
11 motivation and Emotion 282
12 Personality 314
13 Psychological Disorders 342
14 Therapy 374
Appendix A: Statistics and Psychology 433
Appendix B: Answers to Self-Tests 441
Glossary 443
References 449
Credits 486
Name Index 492
Subject Index 500
Enhanced Visuals
: photos, figures, diagrams, and other illustrations throughout the text have been carefully revised and examined to enhance their diversity and effectiveness as student learning aids.
Expanded Coverage of Important Topics: This second edition includes new or expanded discussions on many topics including positive reinforcement, the misinformation effect, sources of stress, parenting styles, and divergent thinking, to name a few.
NEW Applying Psychology Feature: New to the second edition, this application helps students relate psychological concepts to their own world and understand how these ideas are applied in different areas of society, such as the workplace.
NEW Psychological Research Feature: This text offers expanded descriptions of current research findings, as well as explanations of their importance and potential applications.
More Opportunities for Critical Thinking: Many features in the book, including the Applying Psychology and Psychological Science sections include questions that encourage students to critically assess topics within the context of what they have learned in the text.
NEW Study Aid: Throughout the text, Study Organizers present material in a way that makes it easier for students to compare different aspects of a topic, enhancing their understanding as they prepare for exams. Such topics include schedules of reinforcement, stages of language development, and defense mechanisms.
Chapter Introductions:
Featured alongside compelling photographs, these chapter openers illustrate certain psychological concepts with concise stories to pique the reader's interest in what's to come. Also included in the chapter opener, is an outline listing the main sections and features of the chapter.
Process Diagrams: a series of figures or a combination of figures and photos that illustrate a complex process, allowing students to observe, follow, and understand the demonstrated topic.
Visualizing features: specifically designed multipart spreads that focus on a key concept in a chapter using a combination of figures and photos to present concept in a broader context. Many photos originate from National Geographic's rich resources.
What a Psychologist Sees: Highlights in photos and figures, a phenomenon that would stand out to a professional in the field, increasing a student's observational skills.
What is happening in this Picture: an end-of-chapter feature that shows students a picture relevant to the chapter topics, paired with critical thinking questions to stimulate creative thought.
Learning Objectives: offered at the beginning of each section explains what the student must be able to do to demonstrate mastery of the material in the chapter.
Concept Check: questions at the end of each section offer students the chance to test their comprehension of the material the learning objectives.
Marginal Glossary Terms: introduce the chapter's most important terms in green boldface type.
Tables and Graphs: complete with source citations, summarize the important information at the end of the text.