Visualizing Weather and Climate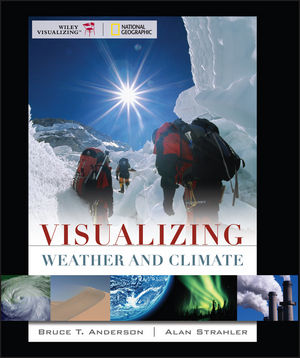 Visualizing Weather and Climate
ISBN: 978-0-470-41812-3 September 2008 528 Pages
Selected type:
Loose-leaf
Description
Visualizing Weather and Climate Change will capture the reader's interest in weather and climate and then use that interest to engage them in activities that demonstrate the science that serves as the basis of the discipline. Sections such as Eye on the Atmosphere use beautiful imagery to help them see the atmosphere through the eyes of a meteorologist and ask scientific questions that place significant features in atmospheric context. It also includes expanded coverage of global change and recent phenomena. Chapter summaries, self-tests and critical thinking questions help prepare readers for quizzes and tests while the illustrated case studies offer a wide variety of in-depth examinations that address important issues in the field of environmental science.
1 Introducing Weather and Climate 2
2 The Earth's Atmosphere 28
3 The Earth's Global energy Balance 50
4 Surface Temperature and its Variation 82
5 Atmospheric Moisture 120
6 Winds 154
7 Global Atmospheric and Oceanic Circulation 182
8 Midatitude Weather Systems 216
9 Tropical Weather Systems 244
10 Thunderstorms and Tornadoes 268
11 The Global Scope of Climate 298
12 Climates of the World 320
13 Climate Variability 352
14 Human Interaction with Weather and Climate 384
15 Weather Forecasting and Numerical Modeling 412
16 Human-Induced Climate Change and Climate Forecasting 440
Appendix
A Units of Measurement and Conversion 472
B The U.S. Standard Atmosphere 473
C Weather Station and Map Symbols 474
D Self-Test Answer Key 475
Glossary 476
Credits 489
Index 493
Learning Objectives at the beginning of each section head indicate in behavioral terms what the student must be able to do to demonstrate mastery of the material in the chapter.