Vital Notes for Nurses: Promoting Health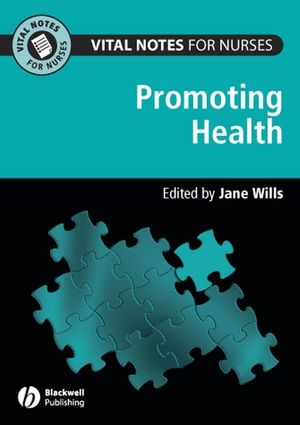 Description
Vital Notes for Nurses: Promoting Health is a concise, accessible introduction to health promotion and public health for pre-registration nursing students and newly qualified nurses.

Promoting the health and well-being of patients is a vital part of the nursing role. This introductory text in the Vital Notes for Nurses series explores issues such as public health priorities, health inequalities, health promotion settings, and the role of the nurse in health promotion roles.
Written in a clear, accessible style which assumes no prior knowledge
Each chapter includes learning objectives, case studies, scenarios, activities and learning outcomes
Includes specific application to nursing practice in every chapter
Identifies strategies for promoting health with individuals and communities and for protecting the health of the general population
1. Introduction.
2. Health and Health Promotion.
3. Influences on Health.
4. Approaches to Promoting Health.
5. Priorities for Public Health.
6. Health Information and Epidemiology.
7. Protecting the Health of the Population.
8. Promoting Healthy Lifestyles.
9. Promoting Health for Communities.
10. Creating Supportive Environments for Health
'This is a really useful text. Health promotion, an essential aspect of the nurse's role, has not previously been given sufficient prominence. The chapters are written by notable authors and despite their diversity, there is continuity to it, giving it an overall coherence and sense of whole. This is a thoroughly useful text.'
Nursing Times

'Health promotion, an essential aspect of the nurse's role, has not previously been given sufficient prominence...this is a thoroughly useful text and contains, as it says "vital notes for nurses."'

Nursing Times, 2 Oct 2007

'This book is readable, consistent and relays some important messages for students and experienced nurses.'

Nursing Standard, 24 October 2007


Written in a clear, accessible style which assumes no prior knowledge

Each chapter includes learning objectives, case studies, scenarios, activities and learning outcomes

Includes specific application to nursing practice in every chapter

Identifies strategies for promoting health with individuals and communities and for protecting the health of the general population