Voices, Spaces, and Processes in Constitutionalism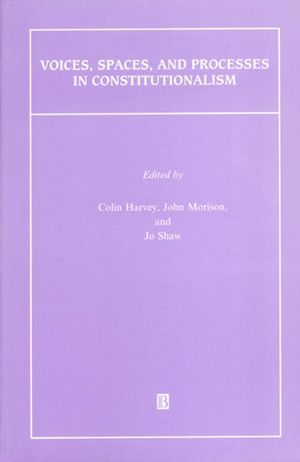 Voices, Spaces, and Processes in Constitutionalism
ISBN: 978-0-631-21884-5
Jun 2000
160 pages
Description
This book explores debates in constitutionalism around the attempt to map the fragmented nature of governance in the new constitutional landscape of the UK, the EU and elsewhere. The book examines these issues at all levels from the EU through to the details of some of the new devolutionary schemes. As well as examining how constitutionalism operates at levels and in sites beyond the traditional ambit of structures and institutions, the essays seek to respond to the challenge of securing accountability and participation in the new climate.
Voices, Spaces, and Processes in Constitutionalism 1
Colin Harvey, John Morison, and Jo Shaw
Process and Constitutional Discourse in the European Union 4
Jo Shaw
Accountability in the Regulatory State 38
Colin Scott
Governing after the Rights Revolution 61
Colin Harvey
The Government-Voluntary Sector Compacts: Governance, Governmentality, and Civil Society 98
John Morison
The Devil and the Deep Blue Sea? A Critique of the Ability of Community Mediation to Suppress and Facilitate Participation in Civil Life 133
Linda Mulcahy
Business, State, and Community: 'Responsible Risk Takers', New Labour, and the Governance of Corporate Business 151
Gary Wilson
Post-nationalism and the Quest for Constitutional Substitutes 178
Damian Chalmers
* Focuses on recent developments in constitutionalism and governance.
* Highly relevant to ongoing debates on devolution and international in the UK and elsewhere.
* Recognises the multi-layered nature of these trends and combines levels of analysis that are usually separated in the existing literature.