Waking the Giant: Revitalising the Mature Brand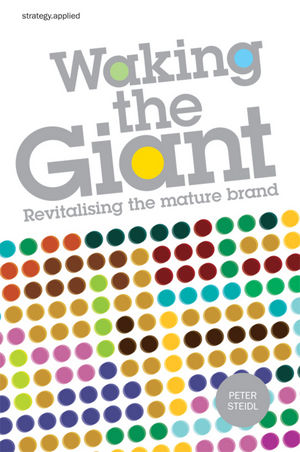 Waking the Giant: Revitalising the Mature Brand
ISBN: 978-1-118-31956-7
Jan 2012, Wrightbooks
240 pages
Description
Brand maturity is not inevitable.
Waking the Giant challenges current thinking and practice when it comes to achieving growth with mature brands.
This book convincingly demonstrates that the challenge of revitalising a mature brand is just as exciting -- and requires just as much ingenuity and innovation -- as launching a new brand.
While major mature brands still dominate many categories, margins and growth opportunities are often less than exciting. The critical question is: milk the brand, or revitalise? And, just as important: is your organisation fully committed to, and able to deliver on, your chosen strategy?
Inside you'll discover:
the merits of revitalisation and milking strategies, and how to choose between them

how to renew positive differentiation for a mature brand

how to implement a revitalisation strategy and eliminate outdated work practices that could ruin your plan

how to align your revitalisation strategy with the consumers' and industry sector's evolutionary trends.
Acknowledgements.
Introduction.
Part I: making the commitment.
1 Before we start, is it really worth the effort?
2 Abolish work practices that cause maturity.
3 Adopt new work practices.
4 Move from expert to intuitive strategy.
Part II: revitalisation strategies.
5 Deliver delights.
6 Throw your master brand into battle.
7 Brand vision archetypes.
8 Use symbolism.
9 Move from exposure to engagement.
10 Don't engage in channel-neutral planning.
11 Change the rules of competition.
Part III: selecting the strategy that's right for you.
12 Is your brand revitalisation strategy aligned with the industry's evolutionary path?
13 Is your brand revitalisation strategy aligned with the consumer's evolution?
14 Is your brand revitalisation strategy changing the brand construct in the consumer's mind?
Epilogue: just do it!
Recommended reading.
Index.