Waldenses: Rejections of Holy Church in Medieval Europe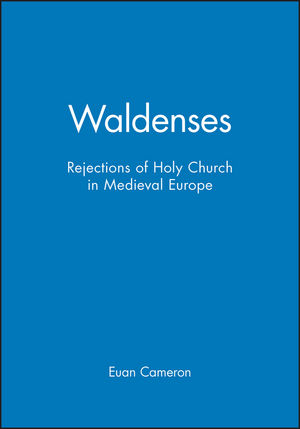 Waldenses: Rejections of Holy Church in Medieval Europe
ISBN: 978-0-631-15339-9
Feb 2001, Wiley-Blackwell
348 pages
Description
This is the first one-volume scholarly account in English of the Waldenses - a movement comprising various forms of religious dissidence and self-expression that was founded in the late twelfth century.
List of Plates viii
List of Maps ix
Preface x
Introduction 1
Waldenses and the Catholic Church 2
The Changing Shape of the Sources 3
Some Questions Arising 5
Part I The First Phase
1 Before Heresy: Valdesius and the Poor Brethren at Lyon to 1184 11
2 Disobedient Preachers, 1184-c.1210 23
3 The Lombard 'Poor in Spirit', c.1205-1240 36
4 The Reconciliations with Rome, 1208-1212 49
Part II The Age of Inquisition, Thirteenth to fifteenth Centuries
Introduction: The impact of Organized Inquisitorial Activity 63
5 Waldenses in Occitan France, c.1220-1320 70
6 Germany and Eastern Europe 96
7 The Southwestern Alps 151
Part III The Alpine Waldenses Confront the Reformation
Introduction: The End of Heresy? 209
8 The Alpine Barbes and their Culture, c.1520-1530 211
9 The Encounters of 1530-1532 and their Outcomes 232
10 Calvin's Geneva takes over in Piedmont, 1555-1565 264
Epilogue: The Waldenses as Persecuted Martyrs and the 'True Church' 285
Conclusions and Reflections 297
Bibliography 304
Index 319
"... exemplary in its clarity and comprehensiveness and will easily count as the standard treatment in the subject for years to come."
Times Literary Supplement
<!--end-->
"[Cameron's] command of the difficult and controversial evidence is masterly throughout this study, and his grasp of the ideas which formed the movement, and the different approaches of the new Protestantism, is outstanding. This book will provide a starting-point for future study of the Waldenses." Journal of Theological Studies

"A scholarly account ranging from the late twelfth century to the Reformation..." Missiology: An International Review

"Waldenses is a lucid, nuanced, and intelligent assesment of the history of this diverse group of medieval dissenters.... Cameron's assesments are penetraing and sound... [the book] should find its way onto the bookshelves of many scholars and students interested in medieval religious cultures." Shannon McSheffrey, Concordia University
The only recent scholarly study in English wholly devoted to the medieval Waldenses over the entire period of their existence.

Synthesises earlier work on the Waldenses which has often revealed different and contradictory aspects of the subject.

Provides a careful dissection of the full range of primary sources in the light of recent literature.

Considers the extent to which the Waldenses affected other religious groups.