Wall Street's Buried Treasure: The Low-Priced Value Investing Approach to Finding Great Stocks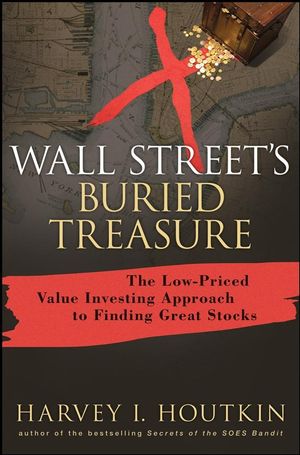 Wall Street's Buried Treasure: The Low-Priced Value Investing Approach to Finding Great Stocks
ISBN: 978-0-470-38397-1
Jul 2008
192 pages
Description
Praise for Wall Street's Buried Treasure
"Mr. Houtkin has provided the reader with a wonderful education on a great strategy that has the potential to turn a very limited risk investment into an extraordinarily high return. He makes the critical distinction between penny stocks and serious opportunities available to the low-priced value investor using important examples of his own methodology. Along the way, Houtkin provides valuable insight into some of the inner workings of Wall Street."
—BILL KRAFT, trader, speaker, trading coach, and author of Trade Your Way to Wealth
"Investing without Wall Street's Buried Treasure is like trying to live without food. Mr. Houtkin provides the facts of survival one needs to make money in any market. He reports the truth that no one else wants to state. This is a playbook for success; a forty-year apprenticeship is explained right between these covers! Take advantage of it."
—JAMES DEPELISI, president of the Stock and Bond Club of South Florida; founder of LDV Capital Management; finance professor at Broward Community College; and host of Investors Business Hour radio program
Preface.
Introduction.
Chapter 1. Overcoming the Conventional Wisdom.
Chapter 2. Wall Street's Buried Treasures.
Chapter 3. Doing Your Homework.
Chapter 4. Public Shells and Reverse Splits, Options, and Warrants.
Chapter 5. Overcoming the Obstacles.
Chapter 6. Getting an Overview of the Marketplace.
Chapter 7. A Classic Low-Priced Value Stock: Sportsman's Guide (SGDE).
Chapter 8. Come and Get It: Aptimus, Inc. (APTM).
Chapter 9. Forgotten Stocks that Fill a Niche: Aduddell Industries (ADDL).
Chapter 10. A Lesson in Management: Gencor Industries, Inc. (GENC).
Chapter 11. More Illuminating LPVS Situations.
Chapter 12. Starting Your Treasure Hunt.
Index.