Wall Street People: True Stories of Today's Masters and Moguls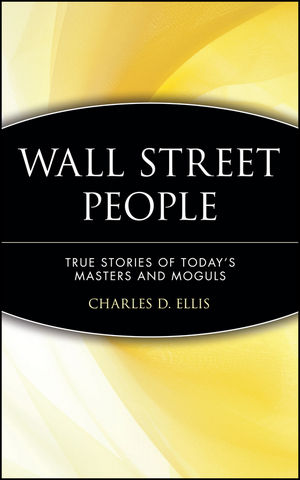 Wall Street People: True Stories of Today's Masters and Moguls
ISBN: 978-0-471-23809-6
Apr 2001
360 pages
Description
The first complete Who's Who in the history of the world's best-known financial street
Charles D. Ellis and James R. Vertin have crafted a window on Wall Street that investors won't want to miss. These two Wall Street insiders provide detailed profiles of dozens of the most fascinating, influential, and talked-about financial luminaries ever to light up the dark and cavernous purlieus of the world's most famous street. Related here are intriguing tales of money won and lost, amazing coups, brazen cons of financial brilliance, and untrammeled greed and blind ambition. This compelling series includes profiles of the biggest names today: Alan Greenspan, Warren Buffett, Larry Tisch, Jim Rogers, Sanford Weill, and George Soros-as well as investment losers like Ivan Boesky and Nicholas Leeson.
Charles D. Ellis (Greenwich, CT) is a Managing Partner of Greenwich Associates, the international financial consulting firm. Now fully retired, James R. Vertin (Menlo Park, CA) was a principal of Alpine Counselors, a financial consulting firm.
MASTERS OF INVESTING.

Bernard M. Baruch.

Albert J. Hettinger Jr.

Roy Neuberger.

Benjamin Graham.

David L. Babson.

Philip Fisher.

Charles Allen Jr.

John Hay Whitney.

Benno Schmidt.

Fayez Sarofim.

Michael Steinhardt.

Laurence A. Tisch.

Warren Buffett.

Charles T. Munger.

Jack Dreyfus.

Howard Stein.

John Templeton.

Paul Miller.

Claude Rosenberg.

Robert Kirby.

Dean LeBaron.

Peter Lynch.

John B. Neff.

Leon Levy and Jack Nash.

Barton Biggs.

Julian Robertson.

George Soros.

Philip Carret.

MOVERS AND SHAKERS.

Saul P. Steinberg.

William Zeckendorf.

Roland Rowland.

James Goldsmith.

Carl Icahn.

Albert and Paul Reichmann.

Bruce Wasserstein.

Scarsdale Fats.

Alfred W. Jones.

Gerald Tsai.

Fred Alger.

Jerry Kohlberg, Henry Kravis, and George Roberts.

BUSINESS BUILDERS.

Longstreet Hinton.

Hermann J. Abs.

George S. Moore.

David Rockefeller.

George S. Johnston.

Jonathan Bell Lovelace.

Arnold Bernhard.

Edward C. Johnson II.

Edward C. Johnson III.

John C. Bogle.

Joseph K. Klingenstein.

T. J. Carlyle Gifford.

Siegmund Warburg.

Henry Grunfeld.

David Scholey.

Maurice (Hank) Greenberg.

Sanford Weill.

James D. Wolfensohn.

Henry Crown.

Albert H. Gordon.

John L. Loeb.

Gustave Levy.

John C. Whitehead.

John L. Weinberg.

Robert H. B. Baldwin.

Alan C. (Ace) Greenberg.

Pete Peterson and Lewis Glucksman.

Donald Regan.

Michel David-Weill.

William Salomon.

John Gutfreund.

John Meriwether.

Michael Bloomberg.

Richard H. Jenrette.

WISEMEN AND RASCALS.

Sidney Homer.

Henry Kaufman.

John J. McCloy.

William McChesney Martin Jr.

Paul Volcker.

Alan Greenspan.

Gary Lynch.

Ivan F. Boesky.

Dennis B. Levine.

Martin Siegel.

Michael Milken.

Robert Maxwell.

Nicholas Leeson.