Walter Benjamin: Critical Constellations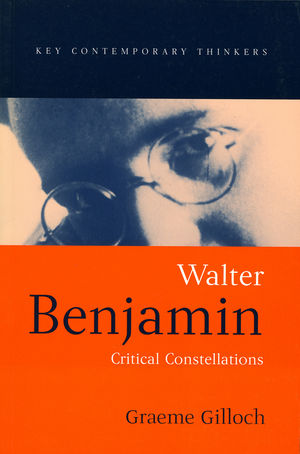 Walter Benjamin: Critical Constellations
ISBN: 978-0-745-66666-2 April 2013 Polity 316 Pages
Description
The works of Walter Benjamin (1892-1940) are widely acclaimed as being among the most original and provocative writings of twentieth-century critical thought, and have become required reading for scholars and students in a range of academic disciplines.
This book provides a lucid introduction to Benjamin's oeuvre through a close and sensitive reading not only of his major studies, but also of some of his less familiar essays and fragments. Gilloch offers an original interpretation of, and fresh insights into, the continuities between Benjamin's always demanding and seemingly disparate texts.

Gilloch's book will be of particular interest to students and scholars in social theory, literary theory, cultural and media studies and urban studies who are seeking a sophisticated yet readable overview of Benjamin's work. It will also prove rewarding reading for those already well-versed in Benjaminian thought.
Table of contents
Acknowledgements viii
Abbreviations x
Introduction: Benjamin as a Key Contemporary Thinker 1
1 Immanent Criticism and Exemplary Critique 27
2 Allegory and Melancholy 57
3 From Cityscape to Dreamworld 88
4 Paris and the Arcades 113
5 Culture and Critique in Crisis 140
6 Benjamin On-Air, Benjamin on Aura 163
7 Love at Last Sight 198
Conclusion: Towards a Contemporary Constellation 234
Notes 249
Bibliography 289
Index 298
Reviews
"This is an excellent introduction to Benjamin's thought, written with great clarity and richly located within his biography. Gilloch's focus upon Benjamin's reconstruction of the 'afterlife' of things enables him to reveal new interconnections and interpretive trajectories within Benjamin's themes and texts, whether they be his writings on language, literature, the city, the new media or the Arcades Project. A most welcome addition to Polity's series on contemporary thinkers."
David Frisby, University of Glasgow
"A fine text to accompany a firsthand reading of Benjamin, such reading is necessary to understand the thinker critiqued here." Library Journal

"The book highlights some major motifs of Benjamin's work and will probably be of interest, above all, to students of media and related aspects of social history or theory" Brendan Moran, Philosophy in Review