Walter Benjamin and the Media: The Spectacle of Modernity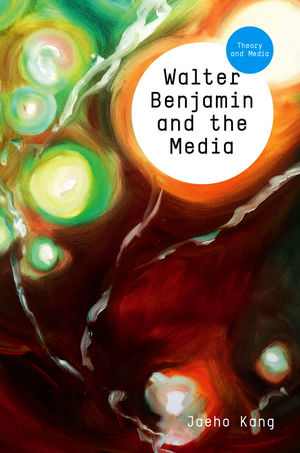 Walter Benjamin and the Media: The Spectacle of Modernity
ISBN: 978-0-745-64520-9 July 2014 Polity 196 Pages
Description
Walter Benjamin (1892-1940), one of the most original and perceptive thinkers of the twentieth century, offered a unique insight into the profound impact of the media on modern society. Jaeho Kang's book offers a lucid introduction to Benjamin's theory of the media and its continuing relevance today.

The book provides a systematic and close reading of Benjamin's critical and provocative writings on the intersection between media - from print to electronic - and modern experience, with reference to the information industry, the urban spectacle, and the aesthetic politics. Bringing Benjamin's thought into a critical constellation with contemporary media theorists such as Marshall McLuhan and Jean Baudrillard, the book helps students understand the implications of Benjamin's work for media studies today and how they can apply his distinctive ideas to contemporary media culture.

Kang's book leads to a fresh appreciation of Benjamin's work and new insight into critical theoretical approaches to media. The book will be of particular interest to students and researchers not only in media and communication studies but also in cultural studies, film studies and social theory, who are seeking a readable overview of Benjamin's rich yet complex writings.
Abbreviations ix
Acknowledgements xi
1 Introducing Dr Benjamin 1
There and Then, Here and Now 1
Figuring Benjamin 5
Configuring Benjamin 15
2 The Crisis of Communication and the Information Industry 24
Introduction 24
Storytelling and the Crisis of the Novel 26
The Newspaper and the Information Industry 38
The Intellectuals in the Age of Mass Media 50
Conclusion 62
3 Radio and Mediated Storytelling 65
Introduction 65
Towards a Critical Sociology of the Audience 68
Radio Model 74
Some Motifs for Media Pedagogy 85
Conclusion 97
4 Art and Politics in the Age of their Technological Reproducibility 100
Introduction 100
Photographic Reproducibility 102
The Media Culture of Distraction 117
Media and Democracy 129
Conclusion 147
5 The Media City: Reading The Arcades Project 150
Introduction 150
Phantasmagorias of Modernity 153
Media Spectacle and Urban Space 168
Tactility of Media Critic 193
Conclusion 198
6 Conclusion: The Actuality of Benjamin's Media Critique 202
Notes 216
Further Reading 245
Index 251
"In Walter Benjamin and the Media Jaeho Kang strikes a near perfect balance between biographical narrative and theoretical analysis. In doing so, Benjamin's media critique is fully contextualised removing any notion of obsolescence which may arise from a contemporary reading."
LSE Review of Books


For too long Walter Benjamin's lapidary texts have merely sparkled in the distance, unintegrated into everyday analyses of media and communications research. Jaeho Kang's fluent and energetic new reading of Benjamin's writings on radio, storytelling, media industries, and urban culture reinvigorates our connection with this great 20th century thinker of cultural change. Kang's beautifully organised book provides us with a welcome toolkit for grasping today's high-speed reconfiguration of our once familiar media landscapes.
Nick Couldry, London School of Economics


We know of Walter Benjamin in several guises: failed academic, brilliant journalist, messianic writer. But do we really know about Benjamin the media theorist, beyond 'Work of art in the age of mechanical reproduction'?
Jaeho Kang takes us across disciplines along the intensely original intellectual journey that led Benjamin to the media. Brilliant and grave, erudite and luminous, Kang's book invites us to share Benjamin's incandescent curiosity.
Daniel Dayan, Centre National de la Recherche Scientifique, Paris
"Kang's exploration of the relationship between Banjamin's media theorizing of McLuhan and Baudrillard renders Walter Benjamin and the Media a substantial achievement that is well worth a read."
H-Net Reviews
An accessible introduction to Walter Benjamin's theory of the media
Provides a close reading of Benjamin's work on the intersection between media and modern experience
Examines the relevance and implications of Benjamin's work for media studies today
Offers new insight into critical theoretical approaches to media