Wannabe: Gangs in Suburbs and Schools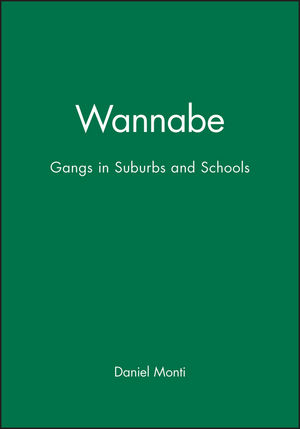 Wannabe: Gangs in Suburbs and Schools
ISBN: 978-1-557-86615-8
Dec 1994, Wiley-Blackwell
192 pages
Description
America's Suburban Gangs is the first book written about youth gangs in suburbs and schools. Based on interviews with over 400 boys and girls between the ages of ten and twenty, the author offers a vivid portrayal of their lives in and around gangs. It chronicles the way in which suburban youths become involved with gangs, learn about committing crimes and violent acts, and gradually begin to question their loyalty to gang life.
Foreword by Edwin J. Delattre vii
Acknowledgements xi
1 Introduction 1
2 Gangs in the World of Children 21
3 Coming of Age 51
4 Going Along with the Program 96
5 Learning to Ride a Bicycle 130
Index 172
"This is a book that generates rich insights into a disturbing societal problem bedevilling our entire nation. People who deal with children but who have little personal knowledge about the neighborhoods and streets where children live their private lives ... will gain a new outlook on the emotional scarring that children suffer in gangs, a new appreciation of the scope and extent of the destructive dilemma gangs pose for our way of life, and a new understanding of how best to approach the challenge of formulating constructive efforts of prevention and rehabilitation in local urban, suburban, and rural communities across the United States."
Thomas Shannon, National School Boards Association, USA
"Wannabe is a poignant reminder of just how difficult it will be to develop public policy designed to control the 'youth gangs' which so terrorize both urban and suburban neighborhoods. Dan Monti's contribution is the brutal honesty of his work. The words, however, are not his own. He lets the gang-bangers and wannabes tell their stories. Chilling stories, 'out of the mouths of babes', about children and young adults who moonlight as organized criminals and contract killers. God help us! We will need it." Robert Destro, Catholic University School of Law, Former member United States Commission on Civil Rights
"Dan Monti's study of the Fairview School District was in-depth and a revealing description of the impact of gangs on school-age youth and the school environment .... Read and take heed, this is happening in your school district." Superintendent, Fairview School District
"Wannabe is very well written, very interesting, and certainly of great importance in understanding how our society is to deal with some of its most intractable problems. I was struck by the fact that gangs serve as a focus of identity for those who join them, not because it is a new idea, but because our schools have been systematically stripped of any affective qualities - anything that might provide an alternative sense of identity." Diane Ravitch, The Brookings Institution
First study of gangs in suburbs and schools - a major and disturbing social phenomenon in the USA today
Based on interviews with - and told in the words of - a large number of young people between ten and twenty.