War Crimes and Collective Wrongdoing: A Reader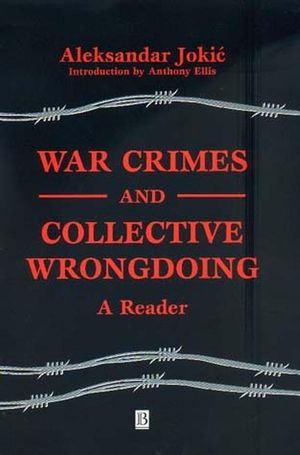 War Crimes and Collective Wrongdoing: A Reader
ISBN: 978-0-631-22505-8 February 2001 Wiley-Blackwell 328 Pages
Description
This timely volume addresses urgent questions about the nature of war crimes, nationalism, ethnic cleansing and collective responsibility from a variety of moral, political and legal perspectives.
List of Contributors vii
Preface xi
Acknowledgements xiv
Introduction 1
Anthony Ellis
Part One What are War Crimes? 27
1 Unchosen Evil and Moral Responsibility 29
Peter A. French
2 War Crimes and Human Rights 48
Alan Gewirth
3 War Crimes: Moral, Legal, or Simply Political? 57
Jovan Babic
Afterword 72
Further Reading 74
Part Two Trials for War Crimes 75
4 War Crimes and Virtue Ethics 77
Michael Slote
5 Whose Trials? Whose Reconciliation? 85
Burleigh T. Wilkins
6 What Should We Do With War Criminals? 97
Anthony Ellis
7 Accountability for War Crimes and the Legacy Nuremberg 113
Richard Falk
Afterword 137
Further Reading 139
Part Three Nationalism and Collective Wrongdoing 141
8 Nationalist Morality and Crimes Against Humanity 143
Richard W. Miller
9 Moral Dimensions of Four Ways of Getting Rid of Groups 163
James W. Nickel
10 Secession and Self-Determination: A Legal, Moral, and Political Analysis 176
Alfred P. Rubin
Afterword 198
Further Reading 200
Part Four The Aftermath of Collective Wrongdoing 203
11 Collective Responsibility. "Moral Luck," and Reconciliation 205
David Cooper
12 Collective Remorse 216
Margaret Gilbert
13 Reparations to Native Americans? 236
J. Angelo Corlett
14 Transitional Justice and International Civil Society 270
David A. Crocker
Afterword 301
Further Reading 303
Index 305
"The systematic and critical exploration of war crimes in this collection exemplifies an interdisciplinary approach to the current debate on a variety of ethical, legal, social, and political issues relating to war crimes. In its original and systematic approach, the collection represents a major contribution to that debate."
Aleksandar Pavkovic, Macquarie University, Sydney
<!--end-->
"Featuring a roster of prominent authors, this volume takes a broad and reflective approach full of concern for human rights and responsive to current events." Thomas W. Pogge, Columbia University

...[T]he collection is clearly designed for course use, and its potential uses are apparent. The initial explorations on the moral origins and foundations of human rights law will be useful for instructors in laying the ground in the initial weeks of a course, before moving on to the historical development of concepts and practices of human rights. The history and debate on international trials and "transitional justice" offer a useful introduction or accompaniment to an empirical exploration of recent or ongoing trials. And the material on issues of collective guilt/responsibility/remorse provides a rich backdrop for investigations of the cultural and political dilemmas facing postwar societies. Instructors will also appreciate the additional material. The introduction to Anthony Ellis summarizes each of the articles while providing a road map to the controversies that divide the authors. And the editor, Aleksandar Jokic, provides brief essays at the end of each section which highlight the important points of each article and suggest further reading.


In general, this is an enlightening and provocative collection. Jokic performs an important service by reminding readers that the political current toward the inclusion of human rights in international governance relies on philosophical and moral postulates which are far from settled, and offers a collection of essays which outline well what the controversies are. Teachers and instructors will appreciate his having gathered the material in one place. Researchers and activists will be grateful to Aleksandar Jokic for organizing this collection which helps to remind them why they do what they do in the first place."

Eric Gordy, Balkan Academic Book Review 28/2001

"These thought-provoking essays are of a high scholarly quality and will be useful to academics concerned with human rights, international law, and the ethics of "transitional justice"." M. Amstutz, Choice, November 2001
Brings together 14 newly written essays from a distinguished list of contributors.

Truly interdisciplinary approach emphasizes the political, philosophical and legal aspects of war crimes and collective wrongdoing.

Includes an introductory essay by Anthony Ellis.

Each section is followed by an afterword and suggestions for further reading.