War and Media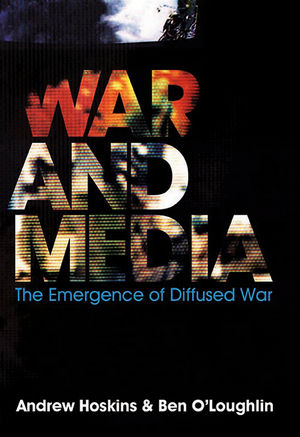 War and Media
ISBN: 978-0-745-65617-5
Apr 2013
240 pages
Description
The trinity of government, military and publics has been drawn together into immediate and unpredictable relationships in a ""new media ecology"" that has ushered in new asymmetries in the waging of war and terror. To help us understand these new relationships, Andrew Hoskins and Ben O'Loughlin here provide a timely, comprehensive and highly readable survey of the field of war and media.

War is diffused through a complex mesh of our everyday media. Paradoxically, this both facilitates and contains the presence and power of enemies near and far. The conventions of so-called traditional warfare have been splintered by the availability and connectivity of the principal locus of war today: the electronic and digital media. Hoskins and O'Loughlin identify and illuminate the conditions of what they term ""diffused war"" and the new challenges it raises for the actors who wage and counter warfare, for their agents and mechanisms of the new media and for mass publics.

This book offers an invaluable review of the key literature and presents a fresh approach to the understanding of the dynamic relationships between war and media. It will be welcomed by a broad range of students taking courses on war and media and related modules, especially in media, communication and cultural studies, politics and international relations, sociology, journalism, and security studies.
Acknowledgements x
List of Tables and Figures xi
1 Introduction 1
1. Diffused War 3
2. The Two Phases of Mediatization 15
3. Conclusion 18
2 Images 20
1. Introduction: Do Images of War Show or Hide? 20
2. Photograph and Flux 23
3. Mediality 26
4. Emergence 30
5. Saddam Hussein's Execution 32
6. Conclusion 35
3 Compassion 37
1. Introduction: What is Compassion Fatigue? 37
2. Why News Values Keep Some Stories Off the Radar 39
3. Exploring Spectator–Sufferer Relations 44
4. How Do Media Enable or Restrict Compassion? 53
5. Conclusion 59
4 Witness 61
1. Introduction 61
2. Representation and the Truth of War 63
3. Witnessing 69
4. Conclusion 85
5 Genocide 86
1. Introduction 86
2. Premediation and the Holocaust 89
3. Media Templates 91
4. The Trnopolje Camp Images 94
5. Towards an Ethics of Images 97
6. Emergence 102
6 Memory 104
1. The Diffusion of Media and Memory 104
2. The Second Memory Boom 106
3. Media and Holocaust Memory 108
4. From Witness to Embodied Memories 112
5. The Third Memory Boom 116
7 Vectors 120
1. Vectors and Globalization 122
2. Controlling Vectors 126
3. Emergent Vectors 136
4. Conclusion 143
8 Radicalization 145
1. The Mediatization of Radicalization 147
2. Diffuse Relations Between Cause and Effect 150
3. Uncertainty for Policymakers and Journalists Enables 'Hypersecurity' to Emerge 155
4. Conclusion 160
9 Legitimacy 162
1. Introduction: Legitimacy, Representation, Discourse 162
2. The Power of Representations 164
3. Diffuse War Axes of Representation 169
4. Translation and Legitimacy 179
5. Conclusion 183
10 Methods 185
1. Identifying Effects amid Ubiquitous Media 186
2. How Do We Analyse Media Practices? 188
3. How Do We Analyse Discursive Linking? Nexus Analysis 189
4. Conclusion 191
Notes 193
References 198
Further Reading 217
Name Index 218
Subject Index 223
""By providing a thoroughgoing and meticulous study of one particular kind of reporting from a number of perspectives, and by incorporating a variety of disciplinary insights, the book is able to revisit familiar topics while moving us further into the digital age.""
Radical Philosophy
""The most singular feature of Hoskins and O'Loughlin's' achievement in their comprehensive sweep of scholarship in this multi-disciplinary field of war and media is its critical assessment of existing paradigms and theories, and the development of new ones. The work represents an important and ground-breaking milestone in the development of this relatively new specialism about one of the oldest and most important spheres of human experience.""
Joseph Oliver Boyd-Barrett, Bowling Green State University

""Whether we approach the field of contemporary war and communications through preferred optics of 'control', 'chaos' or perhaps 'complexity', this book challenges us all - and rightly so. It invites us to take seriously how today's media ecology not only mediates contemporary wars, but becomes insinuated inside the course and conduct of warfare itself.""
Simon Cottle, Cardiff University
""In today's new environment of an apparent never-ending war on terror, governments put together their media strategy with as much care as they construct their military one. This important book helps us understand the fragile relationship between war and media and examine it with a fresh and informed eye.""
Phillip Knightley, author of The First Casualty, a history of war correspondents and propaganda


A timely, comprehensive and highly readable survey of one of the most exciting and current areas of media studies.

Aims to be the authoritative textbook, providing a synopsis of the field from "breaking news" on television through to the impact of electronic and digital media, such as war blogging.

Written by two key scholars in this area, one of whom is the co-founder of the journal of media, war and conflict.

Also contributes to the field by setting out a new framework for approaching the 'new media ecology' which has ushered in new asymmetries in the waging of war and terror.