War and Society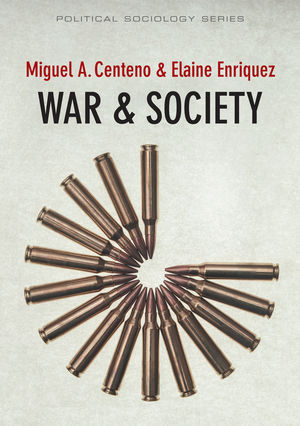 War and Society
ISBN: 978-0-745-64579-7 March 2016 Polity 224 Pages
Description
War is a paradox. On the one hand, it destroys bodies and destroys communities. On the other hand, it is responsible for some of the strongest human bonds and has been the genesis of many of our most fundamental institutions.

War and Society addresses these paradoxes while providing a sociological exploration of this enigmatic phenomenon which has played a central role in human history, wielded an incredible power over human lives, and commanded intellectual questioning for countless generations. The authors offer an analytical account of the origins of war, its historical development, and its consequences for individuals and societies, adopting a comparative approach throughout. It ends with an appraisal of the contemporary role of war, looking to the future of warfare and the fundamental changes in the nature of violent conflict which we are starting to witness.

This short, readable and engaging book will be an ideal reading for upper-level students of political sociology, military sociology, and related subjects.
Acknowledgements
Introduction
Chapter 1: The Nature of War
Violence and Aggression
War as Organized Violence
A Paradox of War: Organization and Anarchy
War as a Human Construct
The Causes of War
Explaining War
Chapter 2: War of the Warrior
The Horror of Battle
Brutality
Making Warriors
Military Values
Duty and Discipline
Chapter 3: War of Armies
Origins of Battle
The Phalanx, the Fleet, and the Legion
The Return of the Horse
Military Revolution: Gunpowder
The Birth of Total War: Napoleon's Revolution and the American Civil War
A Century of War
Explaining the Progress of War
Chapter 4: War of Societies
Conquest
Genocide
Strategic Bombing
Nuclear Armageddon
Chapter 5: How Wars Build
Wars and Big Outcomes
Militaries and the Individual
Chapter 6: War and Society in the Twenty-First century
The End of Empires
The Limits of Firepower: Vietnam, Afghanistan, and Iraq
Who Will Serve? The Changing Demographics of the Military
Conclusion
References
"In this short, yet erudite and comprehensive book, Centeno and Enriquez show how warfare has shaped almost every aspect of social life. Written in clear and crisp prose, full of perceptive insights and backed up by robust evidence, this study makes a powerful case that sociological analysis is indispensable for the study of war."
Siniša Maleševiæ, University College Dublin

"In short, 'War and Society' is a very well written book that students with a higher level of ability could be steered towards in order to broaden their overall sociological understanding."
BSA Sociology Teacher

"Engagingly written with exceptional scholarship, this book also excels in coverage, accessibility, and significance. It may well be the best introduction to the sociology of war available."
Choice

"An interesting book based on a great deal of work but written in an enjoyable and student-friendly style, which offers a first diagnosis [...] leaving the door open to the development of new lines of investigation. But, above all, a book which avoids generalizations which sugar coat or manipulate the phenomenon of war."
International and Multidisciplinary Journal of Social Sciences

"The book brings the social nature of war to the foreground, discussing the negative and positive aftermath and effects of war on culture and society. […] This essential reading is recommended for social scientists interested in war as a primary object of study."
Maximiliano E Korstanje, University of Palermo, Argentina.