Warwick the Kingmaker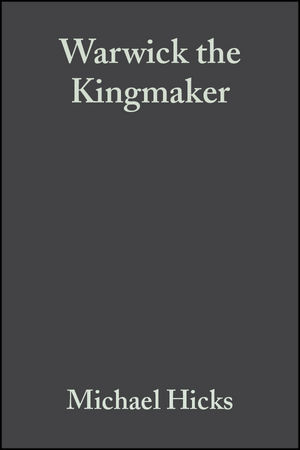 Warwick the Kingmaker
ISBN: 978-0-631-23593-4
Apr 2002, Wiley-Blackwell
368 pages
Description
This book illuminates Warwick's character and motivation, showing that he was an emotional, charming, and popular man with a strong sense of family loyalty. It is the first full study of this compelling figure within the context of political life in late medieval England.
Plates vii
Genealogical Tables ix
Preface x
Abbreviations xiii
1 The Legend of Warwick the Kingmaker 1
2 The Formative Years 7
2.1 Pedigree and Patrimony 7
2.2 Northern Roots 17
2.3 Shaping the Future 22
3 Earl of Warwick 31
3.1 Warwick Inheritance Update 31
3.2 Gathering the Spoils 36
3.3 Effectively Earl 48
3.4 The Warwick Traditions 53
4 The Polarization of Politics 1449–54 64
4.1 The Ascendancy of the Opposition 64
4.2 The Royalist Reaction 1451–3 75
4.3 Time for Decision 85
5 Partisan Politics 1454–6 94
5.1 York's First Protectorate 1454–5 94
5.2 The First Battle of St Albans 1455 112
5.3 York's Second Protectorate 1455–6 119
6 Countdown to Civil War 1456–9 126
6.1 Towards Reconciliation 126
6.2 Captain of Calais and Keeper of the Seas 138
6.3 The Opportunity Missed 148
6.4 Rout 159
7 Fortune's First Wheel 1459–61 168
7.1 Reculer pour mieux sauter 168
7.2 Warwick's Triumph 177
7.3 The Ideology of Reform 191
7.4 From Abyss to Victory 210
8 The Rule of the Nevilles 1461–7 220
8.1 The First Family 220
8.2 The Pacification of the North 234
8.3 Changing Priorities 248
9 Dropping the Pilot 1467–9 255
9.1 Growing Apart 255
9.2 Rising Tensions 1467–9 263
9.3 Warwick's First Coup 1469 271
10 Fortune's Second Wheel 1470–1 279
10.1 Warwick's Second Coup 1470 279
10.2 Warwick as Kingmaker 286
10.3 From Triumph to Disaster 1470–1 296
11 Terminus 311
Select Bibliography 314
Index 326
"Thoroughly recommended to anyone wanting to make sense of the bloodbath in late medieval English history known as the Wars of the Roses."
BBC History Magazine
<!--end-->
"Hicks' book will be the standard work on Warwick." History

"A rewarding essay ... founded on comprehensive research and a profound knowledge of the era which none today can match." History Today

"There is a great deal to admire in this book. It is shrewd and knowledgeable in its judgments, based on a tremendous amount of research, and has a lot of new and interesting things to say about the politics of mid-fifteenth century England." The Medieval Review

"Hicks has made another considerable contribution to our understanding of fifteenth-century England, and this book is sure to be widely read and vigorously discussed." American Historical Review


Now in paperback, a history of one of the most controversial personalities of fifteenth-century England, Richard Neville, Earl of Warwick.


The first full study of this powerful and compelling figure within the context of political life of late medieval England.


Sets Warwick's life and career in the wider context of C15 English politics, providing a reassessment of key political events of the period


Sheds new light on Warwick's personal motivation, his abilities as a military leader, and his manipulation of public opinion.