Water Desalting Planning Guide for Water Utilities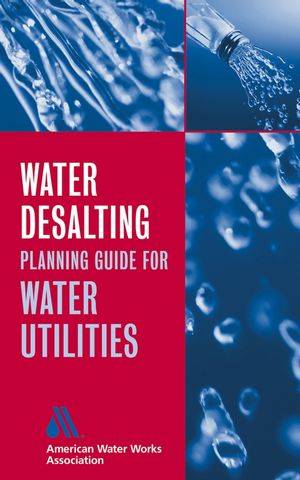 Water Desalting Planning Guide for Water Utilities
ISBN: 978-0-471-47285-8
Mar 2004
216 pages
Description
Written by a select group of industry experts, under the supervision of the leading organization in water utilities, AWWA, this reference is the first practical guide to water desalination systems. Desalination is the process used to remove dissolved salts from seawater or highly-mineralized waters so that the water becomes usable for human and/or agricultural and industrial usage. This book offers authoritative guidance on the planning, design, and implementation of a successful water desalination system for public water utilities.
Preface.
Acknowledgments.
Chapter 1: Introduction.
Development of Desalting Processes and Plant Inventory.
Handbook Synopsis.
Chapter 2: Regulatory Issues.
Drinking Water Standards.
Environmental and Siting Issues.
Chapter 3: Treatment Technologies.
Applicability of Desalting Technologies.
Pretreatment Requirements.
Posttreatment Requirements.
Membrane Technology.
Thermal Processes.
Other Desalting Processes.
Chapter 4: Concentrate Disposal.
Introduction.
Concentrate Disposal Methods.
Innovative Approaches.
Treatment Requirements.
Chapter 5: Process Selection.
Desalter Utilization.
Treated Water Quality Goals.
Source Water Quality.
Pretreatment Considerations.
Contaminant Removal.
Recovery.
Product Water Posttreatment.
Pilot Testing.
Split Treatment.
Waste Disposal.
Energy Usage.
Site Development.
Chapter 6: Desalting Costs.
Definition of Capital Cost and Operation and Maintenance Cost.
Construction Costs.
Estimating Capital Costs.
Estimating Operation and Maintenance Costs.
Financing Cost.
Cost of Water.
Total Treated Water Costs.
Summary.
Chapter 7: Project Implementation.
Defining the Project.
Public Involvement.
Environmental Documentation.
Permitting.
Financing.
Design.
Obtaining Construction Bids.
Prepurchasing of Equipment.
Construction.
Operating a Desalter.
Obtaining the Required Expertise.
Project Delivery Alternatives.
Comparison of Desalter Implementation Alternatives.
Case Study 1: Lavaca-Navidad River Authority Seawater Reverse Osmosis Facility.
Purpose.
Technical Discussion.
Economics.
Environmental Considerations.
Conclusions.
Case Study 2: Two Years of Operating Experience at the Port Hueneme Brackish Water Reclamation Demonstration Facility.
Background.
Project Benefits.
Project Timeline and BWRDF Cost.
BWRDF Overview.
Two Years of Operation.
Comparison of Membrane System Performance.
Summary.
Case Study 3: Desalting a High Total Dissolved Solids Brackish Water for Hatteras Island, North Carolina.
Case Study 4: Desalination for Texas Water Supply.
Reverse Osmosis Desalination Basic Concepts.
Tampa Bay Seawater Desalination Project.
Siting Issues Assessment.
Desalination Cost Impacts Identified.
Example Seawater Desalination Sites on the Texas Coast.
Conclusions.
Case Study 5: Ultrafiltration as Pretreatment to Seawater Reverse Osmosis.
SWRO Pretreatment.
Conventional Seawater RO Pretreatment Options.
UF for Seawater RO Pretreatment.
Hollow Fiber Membrane Filtration.
Norit UF Technology.
Pilot Testing of UF on Seawater.
Results and Discussion.
Conclusions.
Summary.
Case Study 6: Performance and Economic Evaluation of a 16-Inch-Diameter Reverse Osmosis Membrane for Surface Water Desalting.
Backgroud.
Experimental Methods.
Results and Discussion.
Conclusions.
Case Study 7: Membrane Integration for Seawater Desalting.
Tradition or Perdition?
The Road Less Traveled . . . .
For Want of a Map . . . .
A Bridge Across an Ocean . . . .
The Design of the Road . . . .
Coming Down the Home Stretch . . . .
The End of the Journey?
Case Study 8: Implementation of an Enhanced Multieffect Distillation Process for Seawater Desalination.
Project Background.
Commencement of the Design Effort: Early Design Basis Modifications.
The Huntington Beach Desalination Test Units.
Aluminum Evaporator Effects.
Project Cost Projections.
Conclusions.
Glossary of Desalting Terminology.
Index.