Water Quality Measurements, 6 Volume Set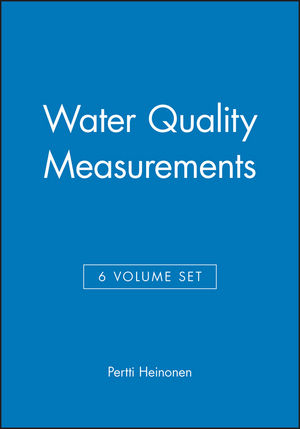 Water Quality Measurements, 6 Volume Set
ISBN: 978-0-470-77959-0
Oct 2008
1988 pages
Description
Water is a fundamental constituent of life and is essential to a wide range of economic activities. It is also a limited resource, as we are frequently reminded by the tragic effects of drought in certain parts of the world. Even in areas with high precipitation, and in major river basins, overuse and mismanagement of water have created severe constraints on availability. Such problems are widespread and will be made more acute by the accelerating demand on freshwater arising from trends in economic development.
Despite the fact that water-resource management is essentially a local, river-basin-based activity, there are a number of areas of action that are relevant to all or significant parts of the European Union and for which it is advisable to pool efforts for the purpose of understanding relevant phenomena (e.g. pollutions, geochemical studies), developing technical solutions and/or defining management procedures. One of the keys for successful cooperation aimed at studying hydrology, water monitoring, biological activities and so on is to achieve and ensure good water quality measurements.
Quality measurements are essential to demonstrate the comparability of data obtained world-wide and they form the basis for correct decisions related to management of water resources, monitoring issues, biological quality and so on. Besides the necessary quality control tools developed for various types of physical, chemical and biological measurements, there is a strong need for education and training related to water quality measurements. This need has been recognized by the European Commission, which has funded a series of training courses on this topic, covering aspects such as monitoring and measurements of lake recipients, measurements of heavy metals and organic compounds in drinking and surface water, use of biotic indexes, and methods to analyse algae, protozoa and helminths. This was the initial input for launching the Water Quality Measurement series in the year 2000, which aims to cover monitoring features of various aquatic environments with focus on freshwater resources. It also includes marine considerations to complete the overall discussions about water quality measurements.
This book series includes the topics of the above-mentioned courses and the outcome of recent scientific advances, as well as other aspects related to quality control tools (e.g. certified reference materials for the quality control of water analysis) and monitoring of various types of water (river, wastewater, groundwater, seawater).
Titles in this Set
Hydrological and Limnological Aspects of Lake Monitoring
Quality Assurance for Water Analysis
Detection Methods for Algae, Protozoa and Helminths in Fresh and Drinking Water
Analytical Methods for Drinking Water: Advances in Sampling and Analysis
Biological Monitoring of Rivers: Applications and Perspectives
Wastewater Quality Monitoring and Treatment
Buy Both and Save 25%!
Original Price:$2,040.00
Purchased together:$1,530.00
save $510.00
Cannot be combined with any other offers.