Way of the Trade Video Course: Tactical Applications of Underground Trading Methods for Traders and Investors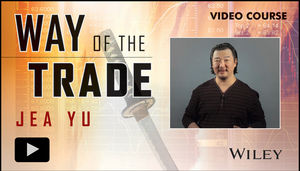 Way of the Trade Video Course: Tactical Applications of Underground Trading Methods for Traders and Investors
ISBN: 978-1-118-73257-1 August 2013
Description
Run time: 22 minutes. With the emergence of high-speed trading algorithms and zombie markets, it's increasingly difficult for traders to extract any sense—or dollars, for that matter—from the chaos of the markets. This presentation from UndergroundTrader.com's Jae Yu offers an optimized and market-tested hybrid approach to winning in today's algorithm-dominated marketplace for intraday, swing, and portfolio traders.
Though you can't compete with the speed and firepower of the algorithms, you can still beat them by better understanding the market landscape. This DVD shows you how to use this market landscape to your advantage, going to ground when necessary and waiting for the perfect moment to strike. This presentation:
Explains how to employ the proven hybrid trading methodology developed by UndergroundTrader.com
Addresses the current market landscape with analysis, lessons, case studies, and insights
Helps you develop your trading skillset to meet the challenge of today's markets
Trading against algorithms is like bringing a knife to a gunfight. Though no methodology can fully level the field of battle, Way of the Trade shows you how to wield your knife with the precision necessary to win.