WealthBuilding: Investment Strategies for Retirement and Estate Planning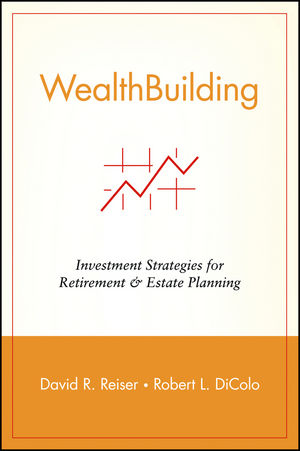 WealthBuilding: Investment Strategies for Retirement and Estate Planning
ISBN: 978-0-471-43669-0
Apr 2001
288 pages
Product not available for purchase
Description
Real-Life Financial Strategies For True Wealth

WealthBuilding is an essential read for everyone who wants to reach their wealth goals and maintain their standard of living when they're retired. It includes the real-life Wealth Stories of 31 investors-ranging from young, single professionals to middle-aged job-hoppers to retired seniors-and how they are planning and managing their wealth successfully and intelligently. A helpful tool for financial professionals to use with clients, WealthBuilding will also empower individual investors by showing them what to look for in a trusted advisor and how to build an effective partnership. You will inevitably see yourself-or one of your clients-in one (or more) of these Wealth Stories.

Praise for WealthBuilding

"David Reiser and Robert DiColo have written a readable book that aims to empower the reader, while at the same time creating knowledge of when professional advice is needed. It is a combination of old-fashioned wisdom and new age understanding. Anyone can benefit from thinking about its lessons." -Zoe Baird, President, The Markle Foundation

"Dave Reiser and Bob DiColo have succeeded where many others have failed: they have explained in a simple, straightforward, and understandable manner the complex, and often frustrating, world of retirement planning. Financial services professionals and serious investors will find Reiser and DiColo's work to be invaluable." -John A. Tarantino, President, Adler Pollock & Sheehan, Past President, Rhode Island Bar Association

"Reiser and DiColo have hit the nail right on the head. A 'don't-do-it-yourself' book that will guide professionals and novice investors on the path to wealth creation." -Dr. Robert Goodman, Managing Director and Senior Economic Advisor, Putnam Investments

Please visit our Web site at www.jklasser.com
Acknowledgments.

Foreword By William B. Lytton.

Part One: Defining Wealth.

Introduction.

Don t Do It Yourself.

How Can an Idea So Popular Be So Wrong?

The Right Idea.

What Is Wealth?

About the Wealth Stories.

Part Two: Achieving Wealth.

1 How to Pick the Right Chief Operating Officer.

Getting to the Chief Operating Officer Point.

Who Makes a Good Financial Advisor?

But I m a Person, Not a Company!

2 Pitfall 1: Don t Save During Prime Earning Years.

The Importance of Saving from an Early Age.

3 Pitfall 2: Save Blindly, without Goals or a Plan.

The Right Investment Mix.

4 Goals, Balance, and the Long-Term View.

Understanding Asset Allocation.

Modern Portfolio Theory.

Equities Diversification.

Stocks, Bonds, Mutual Funds, Cattle Futures?

After Asset Allocation Hold to the Plan.

5 Pitfall 3: Respond to Tipsters and Telemarketers.

The Temptation to Stray from a Successful Plan.

6 Pitfall 4: The Cookie-Cutter Approach How Not to HandleAsset Allocation.

Looking at the Total Financial Picture.

7 Pitfall 5: Spread Your Investments Among Many Brokeragesand Banks Give No One the Whole Picture.

The Need for One Comprehensive Plan.

8 Pitfall 6: Invest for Immediate Income.

Thinking Outside the Lines.

9 Male Investors Are from Mars;
Female Investors Are fromVenus.

Women Are Successful Investors.

Establishing a Partnership with the Financial Advisor.

The Importance of Understanding the Financial Plan.

Developing a Financial Identity.

Part Three: Preserving Wealth.

10 You ve Made It. Now Spend It, Save It, or Give It Away.

The Benefits of Estate Planning.

The Cost of No Estate Planning.

Drawing Up a Last Will and Testament.

Estate Planning: The Basics.

Gifts versus Bequests.

11 Long-Term Care: Protection for the Later Years.

What Is Long-Term Care?

Evaluating Long-Term Care Options.

12 Spend It: The Ultimate Family Vacation.

A Happy Dilemma.

13 Leaving a Legacy Wisely.

The Importance of Intergenerational Communication.

Helping Your Heirs Understand Financial Concepts.

Communication Can Help Reduce Estate Taxes.

14 Give It Away: For Those with Strong Charitable Motivation.

The Desire to Benefit Others.

15 Pitfall 7: Force Your Heirs to Sell Family Treasures.

Putting Family Heirlooms at Risk.

16 The Final Frontier.

Focusing on Wealth.

Day Traders and Armchair Investors.

You, Inc.

Appendix A: Your Financial Physical: Information to Take to Prospective FinancialAdvisors.

Appendix B: Questions a Prospective Financial Advisor Should Ask You.

Appendix C: Questions to Ask a Prospective Financial Advisor.

Appendix D: Estate Planning Worksheet.

Appendix E: Estate Planning Motivator.

Appendix F: How the New Tax Law Affects You.

Appendix G: Markets in Crisis.

Glossary.

Index.