Web 2.0 Heroes: Interviews with 20 Web 2.0 Influencers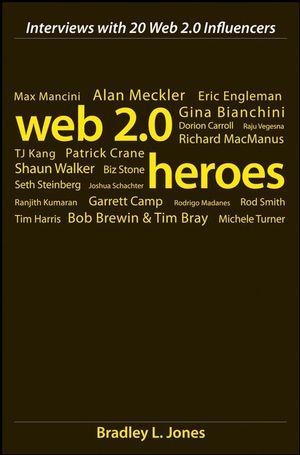 Web 2.0 Heroes: Interviews with 20 Web 2.0 Influencers
ISBN: 978-0-470-37895-3 March 2008 288 Pages
Description
Web 2.0 may be an elusive concept, but one thing is certain: using the Web as merely a means of retrieving and displaying information is history. Today?s Web is immediate, interactive, innovative. It is user-controlled and community-driven. Organizations, marketers, application developers, and communicators must be ready to respond and to innovate or be left behind, and the experts featured on these pages are leading the charge. Their ideas are fresh, sometimes experimental, necessarily flexible, and always on the leading edge to prepare you for a Web where users rule.
Acknowledgments.
Introduction.
1 Max Mancini:eBay.
2 Alan Meckler: Internet.com.
3 Eric Engleman: Bloglines.
4 Gina Bianchini: Ning.
5 Dorion Carroll: Technorati.
6 Raju Vegesna:Zoho.
7 Richard MacManus: Read/WriteWeb & Web 2.0 Workgroup.
8 TJ Kang:ThinkFree.
9 Patrick Crane: LinkedIn.
10 Shaun Walker: DotNetNuke.
11 Biz Stone:Twitter.
12 Seth Sternberg: Meebo.
13 Joshua Schachter: del.icio.us.
14 Ranjith Kumaran: YouSendIt.
15 Garrett Camp: StumbleUpon.
16 Rodrigo Madanes:Skype.
17 Rod Smith: IBM Corporation.
18 Tim Harris: Microsoft Corporation.
19 Bob Brewin & Tim Bray: Sun Microsystems.
20 Michele Turner:Adobe Systems Incorporated.
Index.