Web-Based Training: Creating e-Learning Experiences, 2nd Edition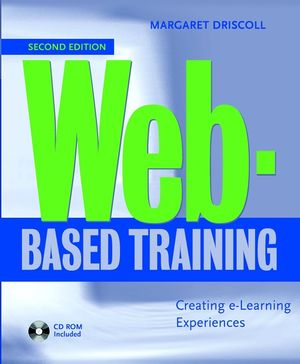 Web-Based Training: Creating e-Learning Experiences, 2nd Edition
ISBN: 978-0-787-95619-6 April 2002 Pfeiffer 352 Pages
Description
This all-new edition of Web-Based Training is filled withpractical charts, tables, and checklists that shows you how todesign winning training programs for delivering instruction on theWeb. Well grounded in the time-tested principles of greatinstructional design and adult education, Web-Based Trainingtakes a step back from the whirlwind of technical guides and offersa extensively-researched handbook. For everyone seeking to learnmore about the subject, Driscoll gives you illustrative examplesfrom a wide range of organizations large and small.

Note: CD-ROM/DVD and other supplementary materials arenot included as part of eBook file.
Cannot be combined with any other offers.
Original Price:$126.00
Purchased together:$94.50
save $31.50
Table of contents
Acknowledgments iv
Introduction 1
Chapter 1.Tactical and Strategic Advantages 5
Chapter 2. Best Practices for WBT Implementation 19
Chapter 3. Principles of Adult Education and Instructional Design 39
Chapter 4.Tools of the Trade 61
Chapter 5.Analyzing Needs and Selecting Delivery Methods 81
Chapter 6. Selecting the Most Appropriate E-Learning Method 101
Chapter 7. Designing Asynchronous Interactions 129
Chapter 8. Designing Synchronous Interactions 165
Chapter 9. Developing Blueprints 199
Chapter 10. Implementing and Evaluating WBT Programs 233
Chapter 11. Looking Ahead 263
Appendices
A. Software Applications for E-Learning 295
B. Professional Organizations 305
C. Resource Sites and Conferences 309
D. Selected Bibliography 315
E. Matrix of Web-Based Training Types 323
F. Netiquette 325
G. Glossary 327
Index 339
About the Author 346
How to use the CD-ROM 347
Reviews
"This is a book that blends history, advice, and insight into atool that can be used either as an introduction to Web-basedtraining or as a field guide for every training developer....Margaret Driscoll is uniquely qualified to produce such ahigh-quality addition to every training manager's library."--Cushing Anderson, program manager, Learning ServicesResearch

"I recommend this book to everyone who asks me for e-learningresources. Its descriptions are clear, its recommendations arepractical, and it helps e-learning practitioners, new andexperienced, focus on one of the most overlooked parts ofe-learning -- instructional design." --Dawn Adams,content development manager, Microsoft

"Besides my books, this is the only one worth reading. Want toknow what Web-based training and e-learning are? You can spend fiveyears mucking around, or you can read this book." --WilliamHorton, author, Designing Web-Bassed Training, Leading E-Learning,and Evaluating E-Learning

"Offers updated insights and sound advice. Explains theuniversals of training...while preparing readers for the change ine-learning, including the rise of mobile computing and educommerce,and the growing link with knowledge management." --SaulCarliner, author, An Overview of Online Learning

"A must-have book for anyone who has responsibility for ensuringthat e-learning is successful in their organization. It not onlyprovides the information and the tools you'll need, but through theexercises you'll be able to gain critical first-hand experience."--Lance E. Dublin, Lance Dublin Consulting