Web Design: The L Line, The Express Line to Learning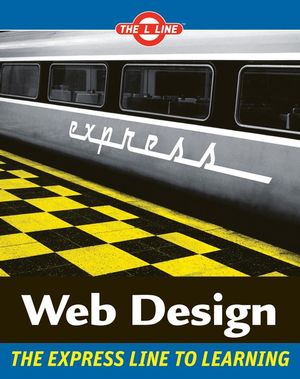 Web Design: The L Line, The Express Line to Learning
ISBN: 978-0-470-09628-4
Feb 2007
547 pages
Product not available for purchase
Description
Get on the fast track to creating your own Web site


Want to create a compelling Web site for a home business, family, or fun? Whether you're a student, aspiring designer, or entrepreneur, you can -- with Dreamweaver(r) and this easy-to-follow guide. Gain solid skills as you go from station to station in a series of clear-cut tutorials that cover site planning, registering a domain, formatting, and more. The last stop? Put your new site online and go live! Start your journey today on The L Line.
* Define your goals and create a site plan
* Learn the best ways to combine HTML and Cascading Style Sheets
* Use layers, create forms, and make the site interactive
* Master Web standards and the latest search engine optimization techniques

All aboard for valuable online extras

Visit The L Line Web site at www.wiley.com/go/thelline for valuable online supplementary materials:
* Test bank with challenging review questions
* PowerPoint slides with chapter outlines
* Images and Web page files from the book
* Practice exam answers
* A CSS reference guide

Along The L Line
* Complete tutorial coverage with step-by-step instruction
* Ample illustrations and examples
* Real-world case studies, applications, and hints for avoiding pitfalls
* Practice exams that let you evaluate your progress
Preface xvii
Chapter 1: Starting with a Plan 1
Chapter 2: Defining Your Audience 33
Chapter 3: Pulling Together the Content 55
Chapter 4: Choosing Development Tools and Techniques 77
Chapter 5: Registering a Domain and Getting a Hosting Plan 103
Chapter 6: Defining the Site's Look and Feel 127
Chapter 7: Mocking Up the Design 149
Chapter 8: Optimizing Graphics 177
Chapter 9: Working with Web Standards (HTML/XHTML/CSS/508) 209
Chapter 10: Using Search Engine Optimization Techniques 237
Chapter 11: Building Basic Pages 261
Chapter 12: Page Formatting with CSS 303
Chapter 13: Creating Navigation Systems 329
Chapter 14: Layers- versus Tables-based Layouts 359
Chapter 15: Using Templates and Server-Side Includes (SSIs) 383
Chapter 16: Creating Forms 405
Chapter 17: Making the Site Interactive 427
Chapter 18: Testing, Testing, Testing 457
Chapter 19: Code Validation and Compliance 481
Chapter 20: Taking the Site to the Web 499
Appendix A: CSS Attributes A–1
Appendix B: Exam Answer Appendix B–1
Index 521
Series features include: Chapter objectives, Pre-Assessment exercises, Terminology overview, Case Studies/real-world applications sidebars, Topic pitfalls, Review Questions, Practice exams.
The L Line uses the universally recognized motif and symbols of a subway map, professional design and ample figures to guide readers through the start to finish lessons of Web design.
Online components include test databases and question and answer sessions.
Topics are tied to emerging multidisciplinary topics that enable readers to master critical career-enhancing and marketable skills.
Real World Approach: Guides students interested in gaining professional-level design skills by evaluating current knowledge, learning skills taught in schools, and testing knowledge against real-world examples.
WRITTEN BY AN EXPERIENCED DESIGN PROFESSIONAL: Sue Jenkins splits her time between running her own design firm and teaching a new crop of designers how to use Dreamweaver, Illustrator, and Photoshop.