Web Developer.com® Guide to Producing Live Webcasts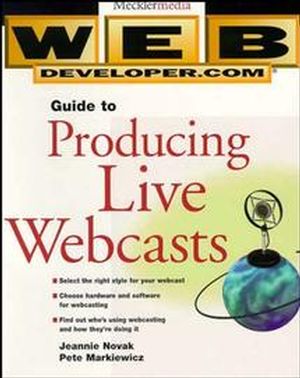 Web Developer.com® Guide to Producing Live Webcasts
ISBN: 978-0-471-29409-2
Oct 1998
368 pages
Product not available for purchase
Description
A total hands-on guide to producing interactive live webcasts Here's all the practical information you need to create exciting online broadcasts that take full advantage of the Web's unique interactive nature. Webcasting pioneers Novak and Markiewicz offer an honest appraisal of the capabilities and limitations of current webcasting technology. They acquaint you with the various forms of webcasting now possible. And they use fascinating case studies to show you what today's most successful webcasters are up to. Focusing on webcasting production, they tell you everything you need to know about:
* Datacasts, wordcasts, audiocasts, animacasts, and videocasts
* Webcasting hardware, software, and development tools
* Assembling and managing a webcasting team
* Using e-commerce technology to make webcasting a paying proposition
* Scheduling broadcasts, managing venue operators, and working with performers, copyrights, and other day-to-day issues
* Successful webcast publicity, marketing, and promotion
* The future of webcasting and the impending consolidation of traditional broadcast media and the Internet into one medium
Wiley Computer Publishing. Timely. Practical. Reliable. Visit our Web site at www.wiley.com/compbooks/ The companion Web site at www.wiley.com/compbooks/novak supplies you with:
* Links to webcast multimedia players, servers, and authoring tools
* Demo versions of audio/video. streaming and media management software
* Hundreds of links to webcast resources and live Internet broadcast sites
OVERVIEW OF WEBCAST PRODUCTION.

The Rise of a New Industry.

THE PRODUCTION PROCESS.

Developing a Webcast Strategy.

Webcast Equipment and Authoring Environments.

Webcast Servers and Connectivity.

Planning, Licensing, and Management.

Webcast Promotion, Commerce, and Analysis.

FORMS OF WEBCAST AND LIVE EVENT PRODUCTION.

Datacasts and Wordcasts.

Audiocasts.

Videocasts and Animacasts.

THE FUTURE OF THE WEBCAST INDUSTRY.

The Future of the Webcasting Industry.

Appendix.

Glossary.

Index.