Web Development with Microsoft Exchange 2000 Server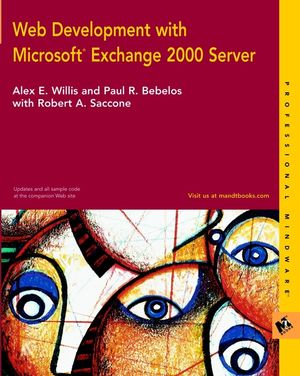 Web Development with Microsoft Exchange 2000 Server
ISBN: 978-0-764-54883-3
Apr 2002
504 pages
Product not available for purchase
Description
If you want to take advantage of Exchange 2000 Server's development platform for your company's internet, intranet and business applications, this is the guide for you.
Rob and Alex targeted this book for IT developers who need to build collaborative and workflow applications.
The authors provide solid programming examples, cases and step by step instructions to how different elements can be integrated together into powerful and effective, small¡Vscale to large-scale business solutions.
Covers security, replication, Active Directory, Web Storage Systems, Public Folder Trees, Collaboration Data Objects (CDO) and Outlook Web Access (OWA), plus more.
Preface.
Acknowledgments.
Part I: Introduction to Exchange 2000.
Chapter 1: Exchange 2000 as a Web-Development Platform.
Chapter 2: Development Tools and Environments.
Part II: The Web Storage System.
Chapter 3: Overview of the Web Storage System.
Chapter 4: The Web Storage System Schema.
Chapter 5: Searching the Web Storage System.
Chapter 6: Web Storage System Management and Security.
Part III: Extending Your Data to the Web.
Chapter 7: ActiveX Data Objects.
Chapter 8: HTTP/WebDAV and XML.
Chapter 9: Active Directory Service Interfaces.
Chapter 10: Web Storage System Forms.
Chapter 11: Outlook Web Access.
Part IV: Collaboration and Messaging.
Chapter 12: Collaborative Data Objects.
Chapter 13: CDO Messaging.
Chapter 14: CDO Calendaring and Contacts.
Chapter 15: Real-Time Collaboration with Instant Messaging.
Part V: Workflow Applications.
Chapter 16: Overview of Workflow.
Chapter 17: CDO Workflow for Exchange.
Chapter 18: Web Storage System Events.
Appendix A: Deploying Applications for Exchange 2000.
Appendix B: Web Storage System Name Spaces.
Appendix C: Web Storage System Content Classes.
Appendix D: Resources for More Information.
Appendix E: What's on the Web Site.
Index.