Web Hosting For Dummies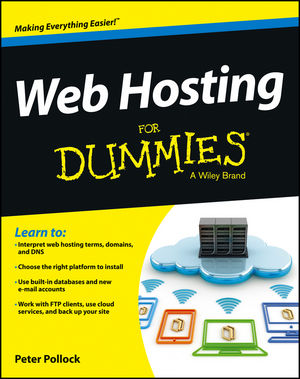 Description
Host your own website or blog with this unique guide
If you'd like to make the leap from a hosted environment to a self-hosted service, this book is for you. You may be making the move from casual blogging to professional blogging. Or, you might already be self-hosting, but want a good guide to show you how to get more out of your plan. In simple, easy-to-understand language, this helpful book breaks down all the functions of web hosting for self-hosted users, from setting up new e-mail accounts to backing up and securing your site, analyzing server logs, choosing a platform to install, and more.
Breaks down the functions of web hosting for new self-hosters, including casual bloggers who may be moving into professional blogging
Helps those who are already self-hosting maximize the services they are paying for
Offers a one-stop, complete resource on web hosting, rather than just a few chapters, as in many blogging books
Covers setting up and using e-mail accounts, working with FTP clients, backing up and securing sites, using cloud services, understanding domains and DNS, using built-in databases, and more
Web Hosting For Dummies helps you take charge of your own web hosting and having fun in the process!
Introduction 1
Part I: Getting Started with Web Hosting 7
Chapter 1: Explaining Web Hosting in Real-World Terms 9
Chapter 2: Evaluating Web Hosting Technologies 21
Part II: Getting to Know the Essential Services 37
Chapter 3: Using Hosted E-mail 39
Chapter 4: Managing Files 61
Chapter 5: Working with Databases — It's Essential 77
Chapter 6: Protecting and Speeding Up Your Site by Understanding Logs 101
Chapter 7: Building Your Site Using Scripts 113
Part III: Managing Security and Access 121
Chapter 8: Taking Command of Website Security 123
Chapter 9: Decoding Domains and DNS 149
Chapter 10: Confi guring Advanced Functions in cPanel 181
Chapter 11: Managing Your Control Panel from a Mobile Device 191
Part IV: Knowing What to Do When Things Go Wrong 201
Chapter 12: Troubleshooting and Resolving Issues 203
Chapter 13: Moving to a New Host 211
Part V: Increasing Control with a Virtual Private Server or Dedicated Server 221
Chapter 14: Making the Right Technology Choices 223
Chapter 15: Keeping the Lid on Pandora's Box with WebHost Manager 227
Chapter 16: Getting Down to the Command Line with Secure SHell 243
Part VI: The Part of Tens 261
Chapter 17: Ten Invaluable Free Apps 263
Chapter 18: Ten Things Your Host Won't Help with (for Free) 269
Chapter 19: Ten Essential Online Resources 273
Part VII: Appendixes 283
Appendix A: Navigating Your Control Panel 285
Appendix B: Glossary 313
Index 319
Updates
Please check back here for updates.